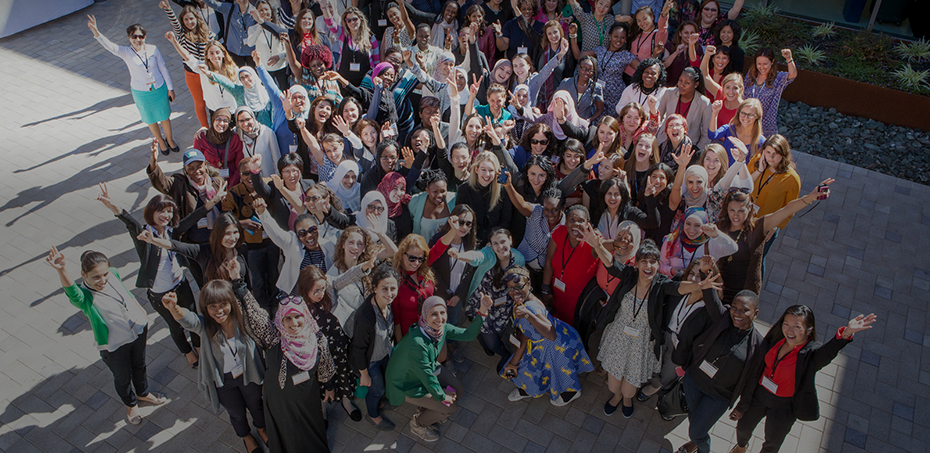 Photo via Theranos.com
For every glass ceiling, there's an iron woman right under it, about to break through. This strong visual is at the core of entrepreneur Elizabeth Holmes' newly announced #IronSisters project to encourage women to support each other in business and in particular, in businesses related to science, technology, engineering, and math. The name for the project was inspired by the first female British Prime Minister, Margaret Thatcher, who was known as the Iron Lady.

Elizabeth Holmes is the youngest female self-made billionaire in the world as the founder and CEO of her company Theranos. She founded the company at 19 while a student at Stanford. She dropped out to focus on the company, which revolutionized lab testing techniques, empowering people to take charge of their own health cheaply and painlessly with a few drops of blood. I have a framed portrait of Elizabeth Holmes in my office and I look at it every day for inspiration.

The first 100 Iron Sisters met with Holmes last week at her Theranos headquarters, and she encouraged them to each reach out to another 100 women to create a network of 10,000 Iron Sisters. The women in attendance came from as far away as Algeria, Cameroon, Egypt, Jordan, Kazakhstan, Kenya, Kyrgyzstan, Lebanon, Libya, Morocco, Nigeria, the Palestinian Territories, Rwanda, Sierra Leone, South Africa, Tajikistan, Tunisia, Turkmenistan, Uzbekistan, Yemen, and Zimbabwe.
Why Iron Sisters?
In a piece for the Huffington Post, Holmes wrote about why she started the project:

"The need for this effort is obvious. Even though girls are just as good as boys at STEM subjects, boys are three times more likely than girls to express an interest in STEM careers. About 85 percent of all venture capital-funded businesses have no women on the executive team, and fewer than 3 percent of venture capital-funded companies have a woman CEO. Although women earn more than half of all bachelor's degrees, we earn less than 20 percent of degrees in computer science, engineering, and physics. We comprise nearly half of the total U.S. workforce, but we make up less than 40 percent of chemists and material scientists, less than 30 percent of environmental scientists, and less than 20 percent of chemical engineers. Minority women are represented in these fields at an even lower rate." (Source: Statistics from the National Girls Collaborative Project)

Holmes said she once had a conversation with the CEO of the Girl Scouts, who told her about an event she hosted for the valedictorians in the program: "The girls in attendance were asked to raise their hands if they thought they'd grow up to become leaders in STEM businesses. Not a single hand went up."

This comment got me thinking about the Weizmann event that we hosted at Science House in partnership with the Athena Center for 50 Girl Scouts to support their interest in STEM careers and entrepreneurship. It also got me thinking that we should take a moment to highlight Weizmann programs that are in place to help women scientists in their quest to change the world.
Weizmann Programs to Support Women in Science
Weizmann's commitment to women in science is deeply felt across the entire organization. The Weizmann Institute seeks to provide support for women pursuing scientific careers at all stages of their education.

The following six programs are designed to engage, affirm, and assist in those goals.
National Postdoctoral Award Program for Advancing Women in Science
Tenure-track research positions in Israel require postdoctoral study abroad, which can be difficult financially and logistically. This award helps women take advantage of those opportunities that they may otherwise be unable to accept.
MUVAN: Girls and Science
A program to inspire 9th graders to pursue scientific subjects by battling societal pressures and presenting the material in an engaging manner in a girls-only environment.
Women in Grad School
The Feinberg Graduate School at the Weizmann Institute of Science graduates one third of all math and science PhDs in Israel. Women make up almost 50 percent of the student population, a number which is increasing through active recruiting.
Campus Childcare
The inability to access affordable and high quality childcare often prevents mothers from continuing their research. This program aims to remove that obstacle by providing on-site daycare.
Support for New Mothers
14.5 percent of female MSc and PhD students gave birth in a single academic year. Support for New Mothers makes nursing rooms available all over campus.
The Career Development Chair for Women in Science
A team of tenure-track professors will be led by a Career Development Chair to help discover extraordinary young female scientists. The appointment of this Chair position creates a prestigious title and another place of leadership for women in science.
The Weizmann Institute's Postdoctural Opportunities
Here, you will find links to practical and logistical information for those building careers in science. It includes information on the National Postdoctoral Award Program for Advancing Women in Science, forums for graduate students and post-docs including mentorship programs for PhD students, and advice on transitioning from a PhD to postdoctoral work including comprehensive information on scholarships.

The postdoctoral years see the largest rate of attrition for women in the sciences and the National Postdoctoral Award Program for Advancing Women in Science is attempting to stop that loss. At a gathering of eight award recipients studying in North America, the women discuss the impact the award has had on their lives by not just alleviating financial pressures, but by giving them a sense of validation as well.

This year another eleven women were added to the ranks of award recipients who each received $40,000 to further their scientific careers by taking postdoctoral placements in foreign countries.

Women make up 50 percent of graduates in the sciences but comprise only 15 percent of faculty positions in academia. This short video highlights women in scientific careers and the struggle to have more female representation in the sciences.

How does one measure the success of an award? For those who completed their fellowships after receiving the National Postdoctoral Award Program for Advancing Women in Science, it means gaining faculty positions in a predominantly male field. And as a bonus, 80 percent of recipients returned to Israel's academia to encourage a new generation of young female scientists.

The Revson Foundation encourages biomedical research by contributing to the Weizmann Institute of Science's Postdoctoral Program for Advancing Women in Science. Donations like these make the fellowships possible, and since 2009 Revson has supported at least fifteen awards.
---
Update to this story:

Right after this story was posted, controversy ensued when the Wall Street Journal published Hot Startup Theranos Has Struggled With It's Blood-Test Technology, which raised questions about whether Theranos is using its own technology to conduct blood tests that promise to be cheaper, less invasive and cover more conditions than usual tests.

Theranos founder and CEO Elizabeth Holmes then appeared in a live interview at #WSJDLive with Jonathan Krim. After the half-hour interview, the publication released a statement reiterating the belief in the accuracy of John Carreyrou's reporting and the the article, which was "subject to the Journal's rigorous and careful editing process." (Wall Street Journal Statement Regarding Theranos CEO Interview at WSJD Live and Theranos's Subsequent Statement - Dow JonesDow Jones).

Theranos then released a statement in response to the Wall Street Journal: Theranos Facts