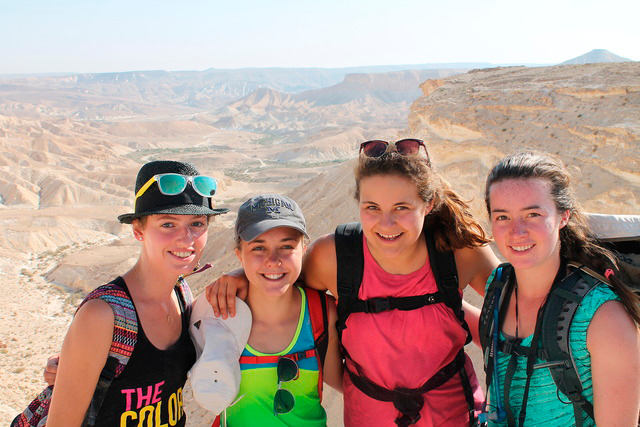 Special to Hudson Hub-Times: Irina Kopyeva, second from left, of Hudson, takes time out from a hike in Mitzpe Ramon in the final week of participation in the Weizmann Institute's annual Dr. Bessie F. Lawrence International Summer Science Institute in Israel.
Hudson—An accidental search during her sophomore year led a recent Western Reserve Academy graduate on a journey to a land of historical sites and ancient battles most people only see in books or on Television.
Irina Kopyeva, 18, of Hudson, was one of only 25 teens from across the country selected to take part in the Weizmann Institute's annual Dr. Bessie F. Lawrence International Summer Science Institute in Israel this summer. The American delegation combined with 60 international students for the program. According to the institute, only one in five applicants are selected. Full scholarships are given to participants who are then given the opportunity to conduct research with world-renowned scientists in biology, chemistry, mathematics and computer science.
Irina, who will attend the University of Michigan as a Stamps Scholar and study biomedical engineering, said she found the program by mistake while researching summer programs.
"I spent a month in Heidelberg, Germany, as part of similar program, that was actually based off of the International Summer Science Institute at Weizmann Institute of Science," Irina said. "I have been fascinated by biology ever since freshman year."
Irina has spent two years working in a colorectal cancer stem cell laboratory at the Cleveland Clinic and was looking for the chance to explore more of her interests and the program looked like a "perfect opportunity to discover something new," she said.
According to Jeffrey Sussman, vice president of marketing communications and public affairs for the American Committee for the Weizmann Institute of Science, the "program aims to deepen students' passion for science and to expand their horizons by teaching them about life in Israel."
"The Bessie F. Lawrence International Summer Science Institute exposes young, future scientists from around the globe to the challenges and rewards of scientific research, at one of the world's leading research centers," Sussman said.
Another selling point of the program is its location – Israel. Irina has good friends who live there and wanted to visit.
The group worked alongside scientific researchers from July 1 to 29 in the program, which was divided into two sections.
The first three weeks concentrated on science with visits to Jerusalem, Tel Aviv and the northern part of the country, including Galilee. During the science portions, each person takes part in a project focusing on set criteria.
"People did some really interesting projects with ultra fast lasers or mathematically modeling structural deformation; some even got publishable results," Irina, 18, said. "I worked with a girl from New Mexico in a biological regulation lab."
Irina's mentor was working to develop an intravital imaging window for mice.
"As such, our project involved inserting, quite literally, a window into a mouse so that we could see the ovary while the mouse was still alive," Irina said. "We then introduced ovarian cancer cells into the mouse's ovary and imaged its progression for five days."
The final week was a desert trip with students visiting the southern section of the country, in temperatures over 105 degrees, starting at the Dead Sea, to Sde Boker, the settlement that is at the entrance to the Negev – the southern desert of Israel – Ben Gurion's final resting place – to Mitzpe Ramon, a crater formed not by an asteroid, but by water and to Eilat, the southernmost city, where the group snorkeled in the Red Sea.
"My favorite part of the program, and those who participated would probably unanimously agree, was the desert trip," Irina said. "Every single hike was beautiful – it's surprising to see how different the desert can be: we would see cascading waterfalls, sparkling emerald green pools, and then mountains that range from light tan to dark gray with crimson streams of dried lava in Eilat."
One of the highlights was a hike to Masada, a fortress which was site of am epic tragedy borne of bravery and pride.
"Masada is a very unique place; created by Herod the Great in the first century B.C., it was the last stronghold of the Jews during the Roman invasion," Irina said.
According to Irina, "Sicarii rebels managed to hold out on this plateau in the middle of the Judean desert close to the Dead Sea for a year as the Romans built a battering ram ramp."
"Instead of being taken as slaves, all 1,000 Jews committed suicide, save two or three women who were taken as slaves and then carried on the story," Irina recounted.
"We hiked all the way up that and even saw the sunrise – an absolutely beautiful view as it comes up over the Jordanian mountains on the other side of the Dead Sea," Irina said.
The group spent that night at the foot of the mesa at what locals called the Million Star Hotel.
"They had us all walk out to a spot a few minutes away, and lay down and try to estimate how many stars we could see," Irina remembered. "Just being under the stars and taking this moment to be completely quiet, made me think about how much we still have left to explore in this universe."
According to Irina, her fellow scientists represented 13 countries.
"I met so many wonderful, intelligent and talented people there. Every day, I'd discover something new about someone, something astonishing, perhaps a hidden talent or interest," she said. "I learned about so many different cultures, ways of life, and traditions through all our discussions and funny moments. I now know that if I'll travel the world, I'll find friends."
Irina suggests more students from Hudson should apply, but warns they should have lab experience prior to applying.
"I never imagined that I'd learn and see so much. The range of religions, traditions, and even languages never ceased to astound me," she said. "Mainly, I was just so happy to be partaking in this exciting trip with some of my, by then, closest friends. Besides, when else would we wake up to an ibex trying to nibble at our toes."
For more about the program visit www.weizmann-usa.org/about/education/bessie-f-lawrence-international-summer-science-institute.