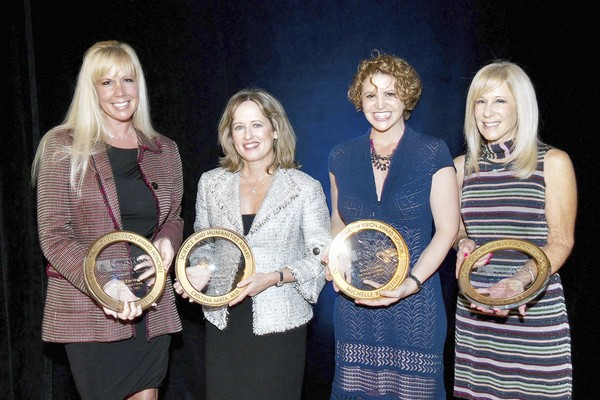 From left are Women of Vision honorees Jen Klaassens, Cristina Mata, Michelle Bernstein and Mindy Shrago. (Submitted photo)
Though they work in different fields, four South Florida women recently honored as Women of Vision by the American Committee for the Weizmann Institute of Science have one thing in common — they're making a big difference in the community.
"We seek out honorees who have really given back or helped the community, either with philanthropic ways or through the time and effort they've put into other charities or organizations that benefit others," said Richard Enslein, executive director of the institute's South Florida region.
More than 160 people recently turned out at the Signature Grand in Davie to honor Mindy Shrago, Michelle Bernstein, Jen Klaassens and Cristina Mata at the 14th Women of Vision Luncheon.
The event also raised money for the South Florida Area Brain Gain Fund for Young Scientists, which is designed to recruit and retain the best young female scientists.
The four were selected from among 30 nominees.
"It's an absolute honor to be chosen," said Klaassens, vice president of programs for the Wasie Foundation, an independent philanthropic organization.
Among her responsibilities are championing causes and providing hands-on help at local organizations, such asJoe DiMaggio Children's Hospitaland other pediatric causes.
"It's not always about money, but also the time, talents and treasures of what these particular companies can offer the nonprofits," Klaassens said.
The committee is a fundraising arm of the Weizmann Institute of Science in Rehovot, Israel, one of the world's top multidisciplinary research institutions. Enslein said there is a tie between the Weizmann research and what their Women of Vision honorees are doing in the community.
Mata sees the results of scientific advancement on a daily basis. She's currently the associate chief medical officer for Jackson Memorial Hospital and previously worked at Holy Cross Hospital in Fort Lauderdale, where she helped spearhead the Dorothy Mangurian Comprehensive Women's Center.
"Many of the things we take for granted, we get from the Weizmann Institute," Mata said. "They are committed to finding the answers."
Bernstein is a nationally known chef and restaurateur who helps children through Common Threads, which brings healthy eating programs to underprivileged children.
"She's making healthy eating fun and accessible to them," Enslein said.
Enslein said Shrago, co-founder and executive director of Young At Art Museum in Davie, has spent decades bringing art education to children in South Florida.
"We know music and art stimulate the brain," Enslein said. "We think it is a very strong part of education, particularly with all of the cutbacks going on in the education system."
Click here for article.