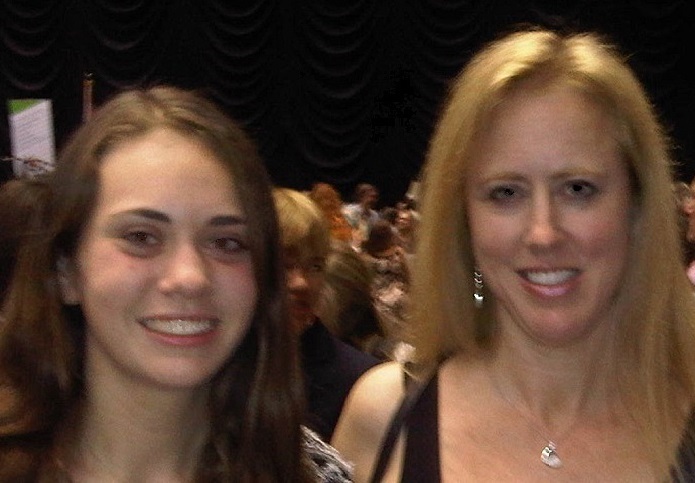 Jamie and Dr. Shari-Lynn Odzer
Dr. Shari-Lynn Odzer and her husband Ari of Miami have actively supported the Weizmann Institute of Science for many years. Her connection to the Institute began the summer before she entered college, when she spent a month on the Institute's campus as part of the Bessie F. Lawrence International Summer Science Institute (ISSI). More than three decades later, her daughter Jamie followed in her footsteps as an ISSI participant. Here, mother and daughter share the Weizmann experiences that fueled their scientific curiosity—and sparked their deep love of the Institute and of Israel.


When did you attend the International Summer Science Institute and what drew you to the program?



Shari-Lynn Odzer: I was the recipient of an award at the International Science and Engineering Fair in 1983, where one student is still selected each year to attend ISSI. It was the first time I had heard of the program. Several of my friends from the Westinghouse (now Intel) Science Talent Search were also attending, and I knew it would be an amazing experience.

Jamie Odzer: I attended in the summer of 2014. I knew about ISSI from my mother, and she said it was incredibly fun and rewarding. I decided to apply, since I had only heard great things about the program.

Can you tell us a bit about your project and your experience working alongside Weizmann scientists in the lab?

SLO: I worked in the neuroscience department, in a lab that was researching nerve regeneration. I remember being both intimidated and inspired by the scientists in the lab. It was a great way to get a taste of high-level university research on an international scale.



JO: I worked in the Department of Biological Regulation in the Atan Gross lab and my mentor was Amir Bahat. I could not have asked for a more supportive lab and mentor. Amir was completely dedicated to making sure that my fellow ISSI lab mates and I understood everything we were doing, and were given as many opportunities as possible to add new data to the overall project. Our project concerned a mitochondrial membrane protein called MTCH2.

How did working in a lab at the Weizmann Institute in Israel compare to working in a lab in the U.S.?



SLO: The lab at Weizmann was much more international. I recall having doctoral students from several countries in the department. Also, although the work was serious and significant, it was a fun, communal atmosphere. Everyone seemed so happy to be there.

JO: What was interesting about ISSI was that the program was designed to introduce students to new methods of research and to let them engage in the scientific process more so than focusing on a specific independent project. My lab partners from the program were from Mexico and Brazil, which gave me the experience of working with other people my age from around the world.

Can you share one or two favorite memories of your summer in Israel?



SLO: I remember fondly the "downtime" spent with the other participants…trips to the pool to cool off in the afternoon, or walks into the town of Rehovot for dinner. The weekend trips were incredible. And anyone who participated more than a few years back will never forget the huts we lived in at the youth village: little bungalows with thatched roofs, open at the top and bottom, with dirt floors…hot as can be, and lots of little critters to keep us company. It's those experiences, though, that made it so memorable for me and my fellow participants.

JO: The desert trip at the end was incredible in many ways, but one of the most memorable parts was toward the beginning while we were camping in the Judean desert. Our tour guide took us on a night hike where he gave us the opportunity to see the stars while walking individually in complete silence, which was eerie and inspiring. Additionally, it was certainly memorable running into shelters all summer as the Gaza conflict became prominent.

Shari-Lynn, how do you think the Weizmann Institute changed and evolved between the summer you participated in the ISSI program and the summer your daughter participated?



SLO: When Jamie was accepted to the program, it was the most incredible experience for me. I had so much fun reliving my experience through her. It was amazing to see that the structure of the program had not really changed in 30 years. The same camaraderie and philosophy of welcoming all cultures and backgrounds still hold today.


Jamie Odzer (back row, far left) and fellow American ISSI participants at the Weizmann Institute

How did your ISSI experience influence you academically and personally?



SLO: I continued on a science path after ISSI, and have been in medical practice for the past 20 years. My ISSI experience solidified my interest in science, and I continued to seek out research opportunities throughout my educational career and beyond. Personally, I fell in love with the country of Israel—its people, its history, its progressive place at the forefront of science and technology. I returned several years later, and actually met my husband there while on a vacation. We returned five years ago with our three children. When our tour bus drove past the sign to Rehovot, I got butterflies in my stomach! My memory of those four weeks is so vivid in my mind, even now.

JO: ISSI was by far the best summer of my life, and I will forever cherish my experiences and the friends I made. The program gives young, aspiring scientists the opportunity to explore the basics of research, to interact with the scientific community on an international level, and to learn about the cultural implications of their work. It's also a great opportunity for women scientists to work with other women from around the globe, while increasing the number of women in science in general.

Jamie, have you continued to pursue science in college and do you find yourself drawing on your experience at the Weizmann Institute in your current studies?



JO: Yes, I am! I'm currently enrolled in Brown University's Program in Liberal Medical Education, which is an eight-year program that includes an acceptance to Brown's Warren Alpert Medical School. I also want to major in public health or health and human biology. This summer, I'll be working in an immunology lab. It's not exactly what I did at Weizmann, but I hope to use the knowledge I gained from my lab experience last summer.

Have you stayed involved with the ISSI program? Are you still in touch with other program participants?



SLO: Along with several others from my year, I've been successful at tracking down a good number of our program's participants from all over the world, and we are in touch quite often. My husband and I are also proud American Committee donors, and I encourage others to support programs like this and invest in future generations of scientists.

JO: My fellow ISSI participants and I communicate all the time. I have visited with some of them over the past year and I might see more of them this summer. I absolutely love the people I met.

Why do you feel it's important to support the ISSI program and the Weizmann Institute in general?

SLO: The future of our world rests with the hope that we can keep pace with the constantly changing needs for food, renewable energy, and new medical treatments. Science is the key. There is no better way to help secure top minds in science fields than supporting programs like ISSI. The experience is life-changing, and if even one student out of the 80 who attend in any given summer goes on to make a great discovery, it could change the world.