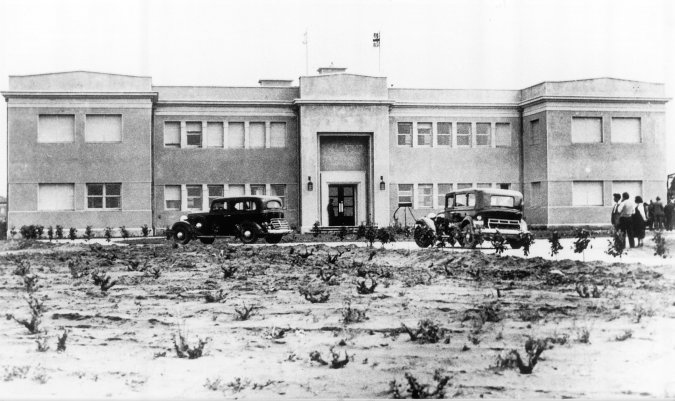 The Weizmann Institute of Science (WIS) hosted a gathering of alumni from Polytechnic University of Brooklyn, New York, and its extension in Israel. Held at the Weizmann Institute campus in Rehovot, the event marked the 150th anniversary of the founding of the university and the 60th anniversary of the formation of Polytechnic's Planning Committee.
Polytechnic is the second oldest private engineering and science institution in the U.S., and its Planning Committee helped establish WIS by expanding the Daniel Sieff Research Institute. The Planning Committee was created at the end of World War II under the chairmanship of Prof. Herman Mark, often called the "father of polymer science" and a close associate of Dr. Chaim Weizmann, who was known as, among other things, the "father of industrial fermentation." In fact, as Prof. Mark states in his memoir, Dr. Weizmann personally asked him to serve as head of the Planning Committee. Another of the committee members was Ephraim Katzir, then Prof. Mark's postdoctoral student, who would later become a Weizmann Institute professor and Israel's fourth president.
The Planning Committee, established in 1945, and the Weizmann Institute, established in 1949 (the Sieff Institute was established in 1934), were conceived during a time of war and continued to support one another during the periods of conflict and peace that followed.
Even during Israel's War of Independence, when equipment intended for WIS could not be shipped to Israel because of security reasons, the two institutions remained in contact. Polytechnic directly supported WIS during the war by storing this equipment until it could be safely transported. The university even went so far as to set up a temporary laboratory for Dr. Weizmann and other Sieff Institute scientists.
Speaking at the gathering that honored this long-term partnership, Prof. Harold Kaufman, director of Polytechnic's extension program in Israel, said that in addition to Prof. Katzir, more than one thousand Israelis were educated at Polytechnic University. As a result of this cross-education, the largest concentration of Polytechnic alumni outside the United States is in Israel.
One of the goals of the Planning Committee was to attract young, promising scientists to the then-new Weizmann Institute. This goal remains important to both institutions; Prof. Kaufman stated that the university continues to contribute to educating future leaders of science and technology in Israel through its Master of Science program at WIS, which focuses on science and high-tech management. A number of students have pursued this program in parallel with their graduate studies at the Institute.
In addition to Prof. Kaufman's speech, the event included a videotaped address by Polytechnic University president Prof. David Chang; remarks by Weizmann Institute president Ilan Chet and Dr. Uzia Galil, founder and former CEO of Elron Electronic Industries; screening of a video entitled "Inspiration & Innovation: 150 Years of Discovery & Invention at Polytechnic University"; and a luncheon.
Three keynote lectures were delivered by Polytechnic alumni. Prof. Israel (Izzy) Borovich of Tel Aviv University's Faculty of Management and president of Arkia Israeli Airlines and Knafaim-Arkia Holdings, who shortly after the event was appointed chairman of El Al, spoke about his move from academia to the world of business.
Amos Raviv, deputy chairman of the Israel Port and Railways Authority, provided advice to new alumni of Polytechnic's Israel extension who intend to pursue doctoral studies.
David Rubin, chairman of the board of Starling Advanced Communications and CEO of Tech Capital and the TIX Group, spoke about his transition from the world of business to public service, referring to his tenure as Israel's economic attaché to North Africa. He also addressed the enormous positive impact on his career of his own studies in the U.S., and stressed the importance of global education for a global economy.
The Weizmann Institute of Science in Rehovot, Israel, is one of the world's foremost centers of scientific research and graduate study. The American Committee for the Weizmann Institute of Science is a community of dedicated people who share a common vision in support of the Institute. The generous assistance the Weizmann Institute receives from individuals, foundations, and corporations is vital for its future. Committee members show their devotion to the advancement of the Institute's goals by becoming partners in the search for answers to the most difficult challenges facing humanity.