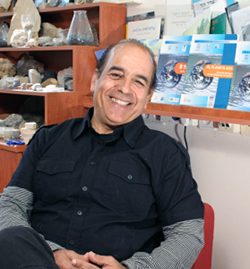 Prof. Nir Orion
Teaching outdoors taps into children's natural learning instincts. But it demands systemic change, says Nir Orion.
During the last decade, there has been growing interest in implementing the Blue Planet educational programme developed at the Weizmann Institute of Science in Israel. It is one of dozens of units my research group has developed under a curriculum titled Thinking Science - Understanding Environment that aims to awaken students' natural learning instinct by making the subject relevant to their personal lives.
Blue Planet has been recognised by UNESCO (the UN Educational, Scientific and Cultural Organization) as a model for scientific environment-based learning about water cycles. [1] It has been translated into Arabic, Chinese, English and Spanish, and we have been invited to conduct workshops with science teachers in nations including Argentina, Brazil, Chile, India and Uruguay. Recently, Peru's Ministry of Education announced it will adopt Blue Planet into its school curriculum. [2]
But how can any of this translate to genuine implementation of the programme, in Peru or elsewhere? And is it possible or realistic?
Learning outdoors
Blue Planet, like other units, begins with concrete interaction with the subject before moving to more abstract concepts, using a well-considered inclusion of the outdoors learning environment.
The curriculum sequence starts with an inquiry-based lab unit that prepares students for outdoor learning experiences by reducing the cognitive, psychological and geographic novelty of this non-classroom setting. [3] This preparation also enables students to fully experience phenomena and contemplate concepts in the outdoors through direct interaction with the subjects being studied. And it enables them to raise questions about more abstract issues that cannot be solved in the field. These questions then form the basis for the next learning stage back in school.
Studies into the results of implementing the programme for over a decade, involving thousands of students in Israel, consistently indicate two crucial factors that influence the development of systems-thinking skills - the ability to understand how related things influence one another.
First, the knowledge integration encouraged by active learning both indoors and outdoors, and, second, the emotional aspects such as personal relevance, interest and self-efficacy. Both factors closely relate to the outdoor learning environment, which is central to creating the personal relevance that drives motivation in learning.
The evidence base for this is wider than our own research - hundreds of articles have shown that outdoor learning is important - but only few programmes do it in practice. And few studies support the theory with evidence-based data.
Failing in practice
During the last 30 years, I have worked all over the world with thousands of science teachers. Unfortunately, only a few could easily implement a science curriculum with the above characteristics.
Although administrative and logistical hurdles often discourage teachers from leaving the classroom 'safe zone', we found that most still ignore outdoor learning even in the absence of these hurdles. The main reason is that, in practice, outdoor learning rarely appears as an integral part of the curriculum or in teachers' training.
Last year, I conducted a five-day workshop in Peru to prepare science teachers for teaching the Blue Planet programme. The dominant reflection of participants is captured by this statement: "My school is located near a river and I cannot understand how I was able to teach the water cycle concept without using the river as a learning resource as we did in the workshop."
Statements such as this reflect the tragic gap between the rhetoric of educators about the meaning of learning and how it works in practice. In fact, this gap is so deep that the process of preparing teachers to teach such programmes actually amounts to professional change, not just professional development.
This means that, although the Peruvian government's willingness to adopt Blue Planet is a gratifying step in the right direction, it will be a challenge to implement it as it was designed. Successful implementation will require resources. But it will depend even more on understanding the need for fundamental change: realising that many children struggle to learn in school because education systems everywhere are created to meet the needs of the system itself, and not those of the child.
For example, Peru's Ministry of Education might decide that children have to learn about the water cycle because scientists believe it is an important concept. However, this external need will not necessarily motivate children. Children have to find their own meaning of the importance of the water cycle - and they can do this only when they realise its relevance to their lives.
Like any instinct, the urge to learn is only called into play by a stimulus or need. The classic classroom stifles this natural instinct so encouraging boredom, absenteeism and rebellion. Nevertheless, many governments stick to the traditional model, which is much cheaper and, through the class system, maintains social hierarchies.
Initiating change
The Blue Planet programme is an opportunity to initiate change. It is also an opportunity to advance science education in developing countries by using the outdoors - a strength in places, such as Peru, where cultures are rooted in the natural environment.
It is clear that implementing Blue Planet demands adaptation in educational philosophy. This is complicated but possible. And its fulfilment depends on citizens.
The time needed for genuine educational change is double that of a political cycle. So realistically, as far as school systems are controlled by politicians, there is only a small chance for such a change. This means that a genuine revolution in education will begin only from grass-roots movements - only from those who understand that the traditional school system invented about 200 years ago as part of the Industrial Revolution was designed to serve the economic interests of social elites, not the interests of learners.
Politicians need to wake up to the need to adjust education in general, and science education in particular, to the natural learning instinct of children. Only then will there be real progress for learners, and real progress in closing inequality gaps in society.
Nir Orion is a professor in the Weizmann Institute of Science in Israel who barely graduated high school. His work covers all facets of science education, and his laboratory is located in several schools, where he practises research, teaching and training of teachers. Orion can be contacted at [email protected]
References
[1] Weizmann Institute of Science Curriculum on Environment Recognized by UNESCO (Weizmann Institute of Science, 2015)
[2] Thinking locally (Weizmann Institute of Science, 21 January 2015)
[3] Nir Orion and Avi Hofstein Factors that influence learning during a scientific field trips in a natural environment (Journal of Research in Science Teaching, December 1994)