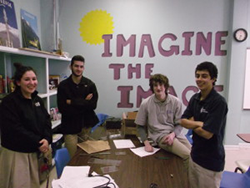 (Photo courtesy of Jonah Queen) Atlanta Jewish Academy students (from left) Daniella Sokol, Joshua Bland, Jesse Cann and Jonathan Bashary prepare for the physics challenge. Not pictured is team member Maia Dori.
Five students from the Atlanta Jewish Academy Upper School are heading to Israel to complete Tuesday and Wednesday, April 5 and 6, in a real-life application of physics against fellow Jewish students from the North America, Europe and Israel.
The challenge posed by the Weizmann Institute of Science's Shalheveth Freier International Physics Tournament is to use physics principles to create a safe with an uncrackable locking mechanism and to crack the safes of other teams. The goal is to encourage students to pursue science in college and beyond by enabling teens to test their knowledge in a fun and practical way.
This science, technology, engineering and mathematics program forced the AJA team to use physics such as the Chladni sound experiment and to apply ionic solutions that give hints on how to open the safe, unlike an ordinary household jewelry safe.
"This is about using as many physics concepts as possible, not pins" as a household safe uses, said senior Jesse Cann, a Congregation Beth Jacob member who is part of the AJA team.
Joining Cann on the team are seniors Maia Dori (Congregation Ariel) and Daniella Sokol (Young Israel of Toco Hills) and juniors Jonathan Bashary and Joshua Bland (both from Congregation Beth Tefillah).
These upperclassmen have carved out a few hours a week from academic schedules already stretched by visiting colleges, taking standardized tests and filling out applications for their futures to work on the puzzle-based safe since January. It's an opportunity for them to apply classroom theories to a real problem.
They have used an elective period on Tuesdays to work together and try to figure out how to get the safe operating properly.
In Rehovot, Israel, the group will meet with other American teams and will work to crack other teams' safes by applying physics concepts. They'll get to know possible future physicists and engineers from other countries.
Jonah Queen, who is AJA's STEM coordinator and is assisting Jeff Kalwerisky in coaching the team, said the school got involved with the Weizmann program as a way to combine science with Israel while connecting with the advanced physics curriculum. AJA raised $5,000 to send the team to Israel, and Weizmann paid $5,000.
"We get to watch these kids grow," Queen said. "Some of them were quite shy, but the focus of something hands-on like the STEM program allowed them to learn leadership skills."
In addition to scientific concepts, the project has taught the students the value of collaboration.
"When we first started, we all came up with our own ideas," Maia said. "We presented it to each other and worked together to figure out first of all how we can make a flow of events. It can't just be one separate thing; one thing has to lead to another. It's a chain, but also what best physics components and creative components could make it complex."
In addition to competing in the tournament with some 70 other teams, the AJA students will visit the Jewish Federation of Greater Atlanta's partnership city of Yokneam and one of the schools there.
"We haven't been practicing how to crack other safes. But we've watched videos of previous tournaments," Joshua said.
"We don't really know what to expect, but we have seen videos of the safes," Jonathan said. "And we think it'll be a challenge, but I think well be able to do it."