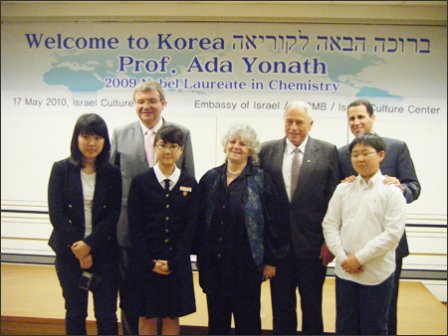 Ada Yonath, center, 2009 Nobel chemistry laureate, joins Korean students at a welcoming reception held by the Israeli Embassy in Seoul, last Monday, at the Israeli Cultural Center. Joining Yonath are Kurt Wuethrich, to her left, the Swiss Nobel chemistry laureate in 2002 and a professor of structural biology at the Scripps Research Institute in Zurich, Switzerland; Tuvia Israeli, second from left, the Israeli ambassador to Korea; and Eran Yuvan, right, charge d' affairs at the embassy. Korea Times photo by Kim Se-jeong
Former Israeli Ambassador to Korea Yigal Caspi said close to the end of his tenure in Korea that the most frequent questions asked by Koreans was about his country's education system.
A good answer heard last week was from Israeli scientist Ada Yonath ― follow your curiosity. As a chemical crystallographer that is what she did for her entire life, resulting in her winning a Nobel Prize last year.
Yonath devoted her entire life to decoding the mechanism underlying protein biosynthesis, by ribosomal crystallography.
She said she had let curiosity lead her life regardless of what other people had told her. "People said it's a dead-end," and many stopped the research, the scientist said
Her comments on curiosity and its importance was also echoed by another Nobel laureate who was in town last week, Roger Korngerg.
The Israeli scientist was in Seoul to participate in an annual conference on biochemistry and molecular biology, organized by the Korean Society for Biochemistry and Molecular Biology.
The field of biochemistry and molecular biology is where Korea and Israel used to have a robust collaboration in the 1970s and 1980s, according to Kim Sung-hoon, director of the center for Medical Protein Network and Systems Biology.
The two countries ― similar in size ― used to have lots to share and exchange, he said.
Now, Israel has come a long way in the field, whereas Korea is still struggling.
Kim said it's unfortunate that in Korea creating an environment where one can choose to follow his or her curiosity without distraction is almost impossible.
Another thing is a goal-oriented attitude toward science, he added.
"Because we (Koreans) are so goal-oriented, people do science to win a Nobel Prize, not the other way around." That is also a backdrop for why basic science such as biology is losing ground.
Altogether nine Nobel laureate chemists from all over the world came to the conference, and the Israeli Embassy in Seoul had a small welcoming reception for Yonath at the Israeli Cultural Center.