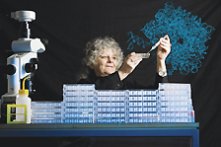 When she mounted the podium of the sumptuous hall at UNESCO's headquarters in Paris to receive her $100,000 prize on Thursday, Weizmann Institute of Science Prof. Ada Yonath could justifiably tell herself: "You have reached your scientific target!"
Ironically, one of Israel's most distinguished scientists - male or female - was for decades treated "like the village fool" by Israeli and foreign colleagues who had doubts about her findings in the rather obscure and complex field of ribosomal crystallography
She was one of five women in the life sciences - each representing a continent, with Yonath standing for Europe - to receive the 2008 L'Oréal-UNESCO Award for Women in Science at the sparkling international event. The scientist will probably place the certificate that comes with the award among 27 others she has received on a "Modesty Wall" she has in her office to bring joy to Helen Kimmelman of New York, a benefactor who has invested in her research since 1988.
"Now Helen has results. She told me that fame has to be obvious, so we had the wall display put in to honor her contribution."
IN AN INTERVIEW with The Jerusalem Post before the receipt of her award, Yonath notes that she is proud of all her prizes, including the Israel Prize, the Wolf Prize (Israel's equivalent of the Nobel), Columbia University's prestigious Louis Gross Horwitz Prize, the EMET Prize, the first European Crystallography Prize and membership in the national academies of science of Europe, the US and Israel (she is the only Israeli woman in the US academy). But the hand-lettered "Grandma of the Year" award that her 12-year-old granddaughter Noa made for her is the most precious. Noa and her mother - Ada's daughter, physician-researcher Dr. Hagith Yonath of Sheba Medical Center at Tel Hashomer - were present to witness the 10th annual presentation of the L'Oréal-UNESCO Award for Women in Science.
L'Oréal, which makes women's cosmetics and had sales of over 17 billion euros in 130 countries last year, set up a foundation to promote women in science. UNESCO is the UN's Economic and Social Council, established in 1945 and dedicated to eliminating all forms of discrimination, promoting equality between men and women, and developing educational programs in science as well as a series of academic chairs creating networks of female scientists around the world
In addition to our Yonath, the other 2008 laureates are Prof. Lihadh Al-Gazali of the United Arab Emirates (for Africa and the Arab States); Prof. V. Narry Kim of the Republic of Korea (for Asia-Pacific); Prof. Ana Belen Elgoyhen of Argentina (for Latin America); and Prof. Elizabeth Blackburn of the US (for North America). At the ceremony, all five signed the L'Oréal-UNESCO Charter of Commitment For Women in Science, affirming their long-term dedication to promote women in science careers. The laureates now comprise 52 women from 26 countries whose work has improved human well-being.
YONATH FIRST learned of her selection when abroad last October. When she opened her e-mail, she could see that there was an attachment but couldn't open it. Calling her granddaughter Noa - who when Yonath won the Israel Prize invited her grandma to kindergarten to explain ribosomes - Yonath asked her to open the attachment and was told what it said.
But before she began getting prizes for her research, things were different. "I was the village fool for many years," she continues. "It didn't bother me at all. I had doubts of course. At first, I wasn't sure that it would work. I had a lot of luck. For quite a while, I didn't receive a higher academic status. I didn't feel any discrimination against me as a woman scientist, but I hadn't produced a lot of science journal articles. The Weizmann Institute showed me respect and didn't require many administrative tasks, so I was quite independent. I did what I wanted."
ADA WAS BORN in 1939 in Jerusalem's Geula quarter, which is now entirely haredi. "My parents were Zionists born in Poland. My father was a rabbi who didn't know much about science and ran a grocery store in the neighborhood with my mother's help." She lived at Rehov Hoshea 3 with her family (including her sister Nurit), occupying four cramped rooms along with the families of her mother's sisters. One of the cousins is Dr. Ruchama Marton, long active in Physicians for Human Rights-Israel.
Ada studied at the state elementary school in the capital's aristocratic Beit Hakerem neighborhood. When L'Oréal made a film about her life to present at the award ceremony, Yonath returned to her Geula neighborhood in trousers, raising some eyebrows among residents as the video cameras whirred.
Interested in science at an early age, Ada conducted experiments on their balcony. "I knew there were lots of unsolved problems. Once, when I tried to calculate the height of the balcony, I broke my arm. Another time, I wanted to see if water moves faster than kerosene. When my father came out to smoke, a fire broke out."
But her father died at 42, when she was only 10; her widowed mother, 38, had difficulties trying to run the grocery alone and moved with the girls to Tel Aviv to become a low-paid Treasury clerk
Despite the pinched circumstances, her mother allowed her to study at the Tichon Hadash High School. After military service, she returned to Jerusalem to earn her bachelor's degree in chemistry and master's degree in biophysics at the Hebrew University. She earned her Ph.D. at the Weizmann in Rehovot and accepted postdoctoral positions at MIT and Carnegie Mellon University in the US. In 1970, she established at Weizmann what was for nearly a decade Israel's only protein crystallography laboratory. After returning from a sabbatical year at the University of Chicago, she also headed for 17 years a research unit at the famed Max-Planck Research Unit in Hamburg, Germany, in parallel to her research activities at the Rehovot institute, where she still holds the Martin and Helen Kimmel Professorial Chair.
THE TARGET of Yonath's research for two decades has been ribosomes (from ribonucleic acid [RNA] and the Greek word soma, meaning body) - complexes of RNA and protein found in all living cells. Their function is the assembly of proteins according to the genetic code, in a process called translation. Ribosomes do this by polymerizing individual amino acids into polypeptide chains; this involves binding a messenger RNA and then using this as a template to join together the correct sequence of amino acids. This reaction uses adapters called transfer-RNA molecules, which carry the amino acids to the ribosome, read the sequence of the messenger RNA, and are attached to the amino acids. Ribosomes build proteins from the genetic instructions held within messenger RNA.
"I wanted to reveal how how genetic code is translated into protein. I knew a great application could be for antibiotics, since half of the useful ones target the ribosomes, but I didn't believe I could contribute to it. It was like the next Mount Everest to conquer. It was my dream to contribute something to humanity," she recalls. "The ribosome field was active for almost three decades before I started," Yonath continues. "A lot of information had been gathered, but the way it functions was not clear. Crystals could not be obtained, since ribosomes need to acquire many conformations for performing their tasks."
She read an article in PNAS (Proceedings of the [US] National Academy of Sciences) by a researcher whose name she doesn't remember about bears that go to sleep in caves for the winter. "He wrote that when they sleep, ribosomes are packed in an orderly way on the walls of their cells, like monolayers. I reasoned that the purpose is that when the bear wakes up, it will be able to use them immediately for the production of proteins that facilitate all the bear's life needs, for example, to look for something to eat. I thought that if a bear can do it, I can organize and preserve them actively for a long time. I started on ribosomes in bacteria."
HER WORK took a big step ahead in 1987, when she and her team developed the cryo technique. Her methodology contributed not only to ribosome research but also the entire field of structural biology. Before then, a few hundred protein structures had been determined. Since 2000, 27,000 have been added. The initial results encouraged her, and the US National Institutes of Health funded her work in Israel - unusual for researchers outside the US. Now her NIH funding is in its 21st year.
Yonath devoted herself to discovering the structure of the ribosomal machinery of peptide-bond formation. She was the first in the world to pioneer ribosomal crystallography, against all odds and single handedly, when others couldn't even conceive its possibility. By pushing crystallography to its limits, she demonstrated the feasibility of this technique, thus inspiring prominent groups to repeat her experiments. It has become a field of its own since then: A Google search for the term produces over 218,000 references.
She was cited when awarded the Wolf Prize for being "the leading force in all stages of structure determination who has introduced fundamental methodological innovations that have greatly impacted the entire field of structural biology." This isn't just theoretical, basic science. By determining - in an incredibly short time - the structures of over a dozen different complexes of antibiotics, she revealed the ribosome-antibiotics binding sites on the molecular level and provided insight into antibiotics selectivity. She elucidated the modes of action of over 20 different antibiotics targeting the ribosome.
A better understanding of the mode of action of antibiotics could improve the treatment strategies of existing drugs and lead to rational drug design to better target bacterial agents at the ribosomal level. Her work thus paves the way to dealing with the crucial issue of drug activity and bacteria resistance to overused antibiotics, thus touching on a central problem in medicine.
"I recommend that young women go into science if they have a problem they want to solve. Women have responsibilities at home that demand so much. I originally wanted to work in a kibbutz working with the cows and cultivating avocados." But now she is one of Israel's most-heralded women scientists, and the L'Oréal-UNESCO Award is another feather in her cap.