Weizmann Institute of Science signs agreement to commercialize technology that impedes permeation of toxic pesticides.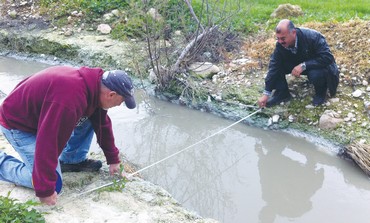 Alon Tal testing water supply with the help of water engineer Nader al-Khateeb. Photo: Courtesy Alon Tal
The commercial arm of the Weizmann Institute of Science has signed an agreement with an agrochemicals firm to commercialize a new technology that impedes the permeation of toxic pesticides into groundwater, the companies have announced.
As enormous amounts of pesticides continue to be used around the world in an effort to increase the global demand for food, the durable toxic chemicals can often seep into the soil and remain there for years, thereby contaminating the groundwater, the firms explained. Aiming to reduce the risks of such environmental contamination, Prof. Brian Berkowitz and Dr. Ishai Dror developed a system at the Rehovot school's department of environmental sciences and energy research that is designed to safely eradicate the toxins.
The system employs environmentally friendly substances called prophyrins, which act as catalysts and electron transporters and are able to dissolve toxic substances found in the soil into harmless ones after they have served their pest-killing purpose.
Occurring in a deep layer that lacks oxygen, the chemical reaction for dissolution happens below the layer containing plant roots, the scientists explained.
After Berkowitz and Dror developed the technology, the Weizmann Institute's business arm — Yeda Research and Development Co. — signed a commercialization agreement with the firm Catalyst AgTech, a member of Mofet Venture Accelerator in the Trendlines investment fund group. Using Yeda's patent, which is registered in Europe and in the US, Catalyst AgTech will be developing and commercializing the technology around the world, the companies noted.
"Currently, there is no effective pest control alternative which is similar to the substances used today," said Shalom Nachshon, entrepreneur and CEO of Catalyst AgTech.
"Nevertheless, pesticides such as Atrazine, whose use was prohibited in Europe several years ago due to its potential to reach groundwater level and is widely used today for corn and wheat crops in US and Canada, remain in the soil for many years and may cause severe environmental damage when they permeate into soil.
Adding the technology to the soil, agriculturalists will be able to have an equally successful crop without damaging the soil or the groundwater," Nachshon explained.
While successful experimentation had originally only occurred in laboratory conditions, Catalyst AgTech is now conducting tests under field conditions and is determining the appropriate pairings of pesticides and catalysts for the chemical dissolution reaction, the company said.
Shay Marcus, the chief business officer at Yeda, stressed that this latest innovation "may greatly contribute to improving the quality of life for all of us."
"Yeda will continue to bridge between the scientists of the institute in Israel and abroad while finding the business high road without obstacles, combined with rational risk management," Marcus said.