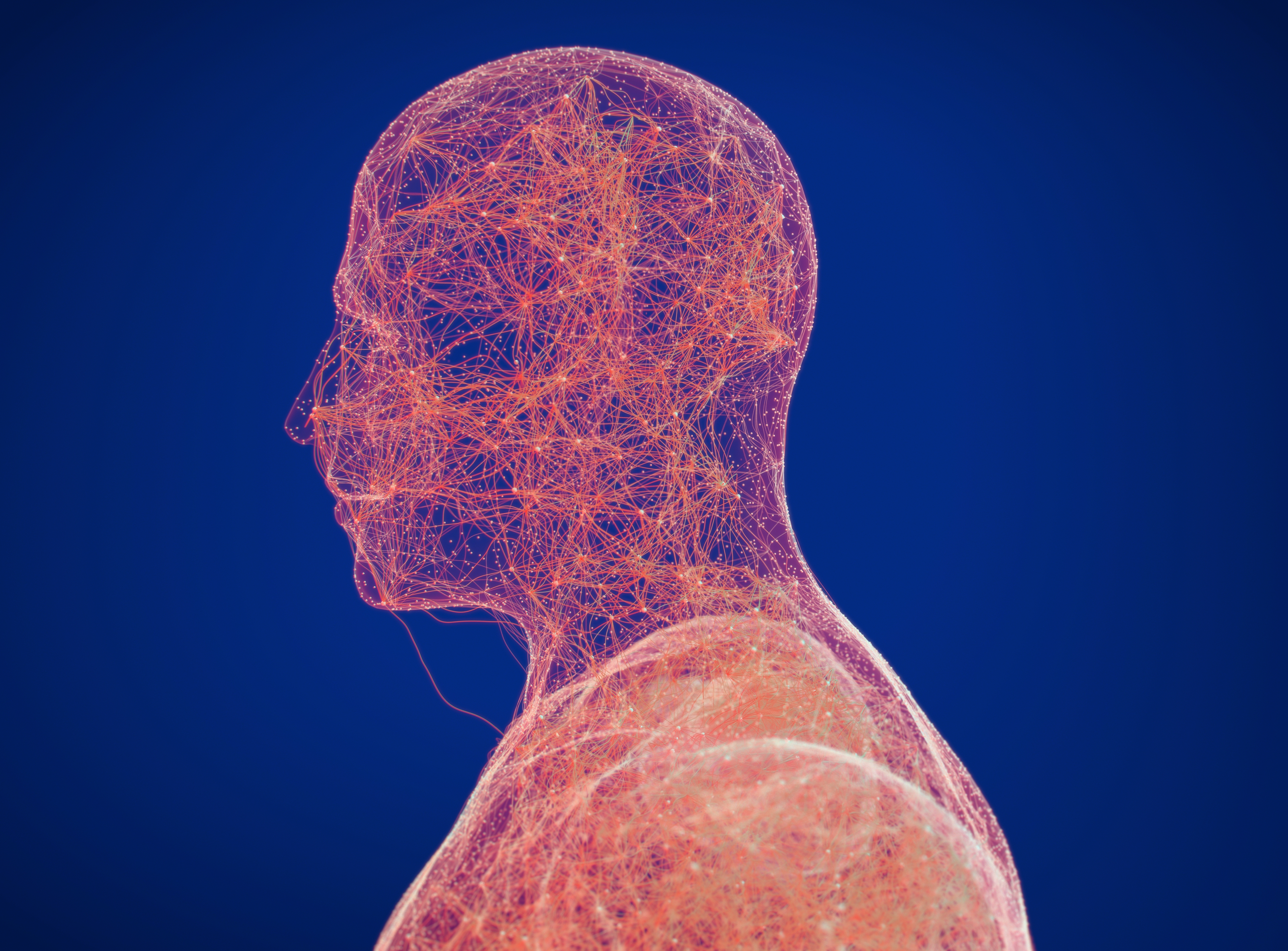 3D illustration of neural pathways, connecting parts of the brain.
Image via Shutterstock
Israeli scientists have developed a way to switch off connectors that link different parts of the brain, in an advance they say could prove key to treating neurological disorders like epilepsy.
The innovation, which relies on a light-sensitive protein from mosquitos, was reported on Tuesday in the peer-reviewed journal Neuron. The breakthrough has been discussed in medical circles for several weeks, and dozens of neurobiology teams around the world are already ordering the protein and using the protocol in their own labs.
"Our new method is the first that allows scientists to increase or decrease the function of certain pathways that connect parts of the brain, or shut them off completely," Prof. Ofer Yizhar of the Weizmann Institute of Science told The Times of Israel.
"The ultimate aim is that this will allow us to better understand the pathways of the brain, and which of them can be targeted to treat various brain disorders."
Scientists widely use genetically modified animals, mimicking various human illnesses, to try to find cures. However, exploring brain disorders using such animals is more challenging than exploring other illnesses.
Yizhar's team has successfully used its method to adjust, shut down and reactivate pathways in mouse brains. It worked well on all seven mice in its experiment.
Now, Yizhar said, scientists around the world working on a human brain disorder can take an animal brain mimicking the disorder and "switch off" its connectors one by one in order to systematically try to identify where problems are occurring and what can be done to address them.
"In a way that has never been possible before, we will be able to deconstruct a very complex 'circuit' by knocking out its 'components' one by one, as you would if trying to fix electronics," Yizhar said.
The method involves injecting a protein from mosquitos, grafted on to a virus, into the animal brain. This protein makes the pathways in the brain sensitive to light.
"We shine tiny LED lights, like those inside televisions, near the parts of the brain we want to inhibit, and the pathways that connect it to the rest of the brain reduce their activity or shut off altogether," said Yizhar. When light is removed, the pathways start functioning normally again.
The Weizmann team has been working on the method for five years, and believes it will help the development of many drugs.
"This can advance research on autism, epilepsy and a range of other disorders, by helping scientists to understand which pathways may be options for therapeutics," said Yizhar.
He added that it will also lead to better general understanding of the brain, including areas like decision-making and social behavior. His team has made all of its research available to the entire scientific community, which can order the protein needed to use the method in their own research. Teams in Europe, the US and Japan are already doing so.
The protein was being sold at cost, at under $200, said Yizhar. "Dozens of labs have already ordered it, and there is a lot of excitement."