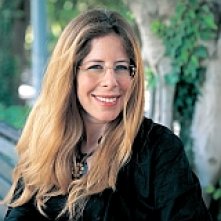 Israeli structural biologist Michal Sharon has made some bold decisions in her young scientific career. After productively using nuclear magnetic resonance (NMR) spectroscopy to study protein structure during a Ph.D., she switched to structural mass spectrometry for her postdoc in the United Kingdom. Upon taking a tenure-track position at the Weizmann Institute of Science in Rehovot 3 years ago, she set out to create the first structural mass spectrometry lab in Israel. And when she wrote the proposal that won a European Research Council starting grant, she let her scientific ambition run free, asking herself, "What will I want to investigate ... if money was not a concern?"
Sharon believes that many young women with families lack confidence in their abilities—including their ability to couple a full commitment to science with family life. They "don't know if they are capable of leading a group [or] if they will be able to combine family and career," she says. Sharon—who had two children before she finished her Ph.D. and has since added a third—admits that she herself has experienced self-doubt. But time, success, a supportive husband, and excellent role models have encouraged her to be ambitious in her science and at home. "I don't think that science should be done as the result of a sacrifice," she says.
A Ph.D. and children
Sharon obtained a B.Sc. degree in chemistry from the Hebrew University of Jerusalem in 1996. While doing a lab rotation in the lab of Jacob Anglister during the first year of her M.Sc. degree at the Weizmann Institute, "I discovered that I'm attracted by technology and biophysical methods and that I enjoyed collecting data and then putting the small pieces of information together [like] a puzzle," Sharon says.
Sharon joined Anglister's lab for her master's project and Ph.D., studying the three-dimensional structure of a region in the HIV-1 protein envelope that helps the virus enter human cells. Sharon used molecular biology methods to express and purify the virus peptide and NMR spectroscopy to analyze its structure as it is bound to neutralizing human antibodies. She wrote six papers describing the work. "The structure led us to propose a mechanism for the receptor selectivity of the HIV virus" with potential therapeutic applications, she says.
Sharon had a son at the beginning of the second year of her Ph.D. and a daughter 2.5 years later. "My Ph.D. was ... something like half a year longer" because of maternity leaves, she says, but "I don't feel [in the] end that it stopped me at any stage." She finished the degree in the summer of 2003.
Her key to balancing work and family during graduate school, she says, was good time management. She left work earlier than she did before she had children, but she made up for the lost time by reading papers and writing e-mails after the children were asleep, by staying longer some days, and by coming into the lab on weekends. She learned to value every minute of the work day. "I write down a plan [of] what I need to do in the following week, and then I divide it [into] what should be done in each day." It's "not the number of hours you are in the lab, but ... the work that is done," she says.
A family experience abroad
"In Israel, if you want to have your independent career, you have to do your postdoc abroad," she says. "I felt it was quite a big decision to ... take my family with me and to move to another country." Despite her obvious ability, she considered working in someone else's lab rather than pursuing a lab of her own.
Hadassa Degani, a female scientist who had been sitting on her Ph.D. committee, noticed "her hesitations whether to pursue an academic career," Degani writes in an e-mail. "At that stage she needed encouragement and support and reassurance of her high qualifications." Degani's input was important in her decision to carry on with a postdoc abroad, Sharon says. But most important was "a very supportive husband that really encouraged me all along ... [and] believes in me and my ability." Sharon's husband, who manages adult education programs in the government sector, quit his job in Israel so that the family could move overseas.
Sharon went to work at the University of Cambridge in the lab of Carol Robinson (now at the University of Oxford), who had pioneered new structural mass spectrometry methods that made it possible to study huge protein complexes. The family was assisted in the move by Cambridge's Israeli community. "We had many phone calls, and they gave us a lot of advice, so our landing was very soft," Sharon says.
In Robinson's lab, Sharon studied protein-protein interactions within proteasomes, large multiprotein complexes that clear cells of unwanted proteins by degrading them into small peptide fragments. "I was very fortunate during that period to have access to prototype instruments that were modified specifically for these needs," Sharon says. "It was very exciting because we could actually explore the capabilities and the limitations and applications" of the new approaches.
Sharon and her husband took turns dropping the children off at school. After school, the children went to a club. "I was working until 5:30 and then of course we had some time together and dinner together ... and when they went to sleep, I continued to do the things that I needed to do," Sharon says. Robinson writes in an e-mail that Sharon "would go home to make dinner and then if necessary and things were going well return to the lab after the children were in bed. This I recognised as something that I had done when my 3 children were small and believe it demonstrates a strong will to succeed."
Robinson, Sharon says, was "beyond being a ... perfect role model." She "was always very supportive, motivating, inspiring, and I learned a lot from her." Sharon also attended a professional development course organized by the University of Cambridge for female graduate students and postdocs and built a small support network. Once in the United Kingdom, Sharon soon matured, Degani says, "gaining full confidence in her intellectual and scientific abilities" and demonstrating her determination to be a scientist. "She embarked into a new field and was able to gain leadership in this field very fast."
By the time Sharon finished her postdoc, in 2006, she had published 15 more papers, seven as first author. She had secured a postdoctoral fellowship from the European Molecular Biology Organization, a Wingate Scholarship, and a Dorothy Hodgkin Fellowship from the Royal Society, which allowed her to develop an independent line of research in Robinson's lab. Sharon had her third child and took an 18-week maternity leave, after which her mother-in-law came from Israel to help with childcare. Sharon found a tenure-track position in Israel, and the family moved back there
Science and family at home
Since 2007, Sharon has been a senior lecturer in the Department of Biological Chemistry at the Weizmann Institute. Today her lab counts four Ph.D. students, three postdocs, one technician, and a research associate. She shares two postdocs with another lab. She continues studying multiprotein complexes involved in the protein degradation pathway, focusing on how their assembly and architecture affect their function. "We combine a biological lab that includes molecular biology and biochemistry with the analytical chemistry using mass spectrometry," Sharon says.
Setting up the lab presented a double technical challenge. First, the protein complexes she studies are large and dynamic, have transient interactions, and are present in low numbers within cells, all of which makes them hard to isolate in sufficient quantity and purity, Sharon says. The second challenge was getting the structural mass spectrometry equipment running.
Leading a lab and raising children share many similarities, Sharon says. "Often, things I'm thinking about in relation to my work are similar to the things I think in relation to my kids," like finding the correct balance between allowing them independence and providing close mentoring. The most rewarding part of her job is discovering "one day that [students] have become independent and often they know things more than you. ... It's like having your child start walking."
"Of course, it [is] a challenge to balance a career and children," Sharon says. It's made easier by her supportive husband, a child-care provider, and a part-time house cleaner.
One issue many women scientists have to deal with is a constant feeling of guilt, Sharon says. "If you're not enough at work, you feel guilty about your work. If you're not enough with the children, you have guilt," too, she says. The most important thing, she says, is to maintain a sense of perspective. "Generally, we should be more patient and ... forgive ourselves and accept that there will be times" when the focus is on work and times where the balance swings toward family. Having a family helps her maintain that equanimity, she says. "If something doesn't go well in the lab, at the end of the day, you come back home [and] you have your children."