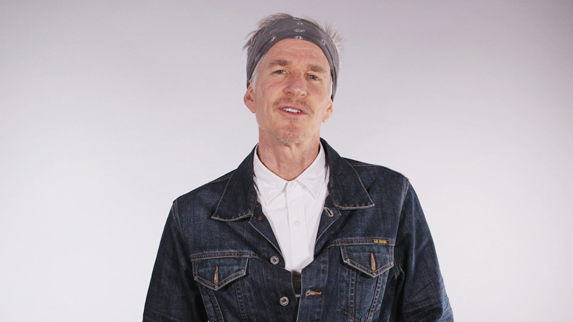 Matthew Modine
Safe to say Matthew Modine chooses paper over plastic at the checkout counter. The soft-spoken actor, who grew up in front of our eyes in such '80s classics as Baby It's You, Private School and Vision Quest, is a big-time environmentalist now. A few years ago the California native literally set the wheels in motion by launching Bicycle for A Day, encouraging people out of their gas-powered cars.
As his eco-friendly passions evolved, so did his tastes in characters. More recently, Modine, 54, appeared as Deputy Commissioner Foley in the 2012 blockbuster The Dark Knight Rises and a corrupt ladies' man on Showtime's Weeds. We chatted about his latest role, appearing in an educational video for the American Committee for the Weizmann Institute of Science.
How did you get first involved with the Weizmann Institute?
The team was familiar with my Bicycle for a Day project and thought I would be a good spokesperson to show how environmental challenges can be addressed through a combination of scientific research and personal action. The Weizmann Institute is working on some very cool projects such as using algae to create environmentally friendly biofuel and developing a sustainable hydrogen fuel technology without any harmful byproducts. The Institute is also doing significant research to develop alternative, creative ways to use solar energy.
What kind of things can the average person do to help the environment?
The good news is there are hundreds of things you can do each day that will have an immediate, positive impact. Realizing that there is no "away" is another. Everything we flush down the drain or throw in the garbage doesn't go away, it goes someplace. When you become conscious of this it begins to change your consumption of water and what you put down the drain. You become more aware of senseless packaging. Starting a home vegetable garden is a wonderful way to get exercise and fresh air. Composting household food waste enriches your garden soil and saves food from going into landfills. Turn the lights off when you leave a room. I could list hundreds of things, but you probably don't have enough space!
Why do you think there are still people who don't recycle?
Many people still aren't aware of the importance. I think schoolchildren should have field trips to water treatment plants and public landfills. This way they can see what the waste of hundreds of thousands of people looks and smells like. Having a visceral experience with waste, I believe, would be a real eye opener.
How can kids learn about the earth's needs?
I'll give you an example: I was doing a play and the theater had a dressing room with a leaking tap. Between performances, I instructed the young cast members to perform an experiment. I told them if they did it very scientifically, they could present their work to their teachers for extra credit. They measured the amount of water leaking from the tap over a period of one hour. They would then take the amount of water leaked and times it by 24 hours and then times that number by 365 days. What appeared to be an innocent drip turned out to be enough water to fill an Olympic-sized swimming pool.
What other projects do you have coming up?
I'm writing to you now from Yorkshire, England. I'm acting in a spooky film called Altar with Olivia Williams [Rushmore]. I have a film I wrote and I am preparing to direct called The Rocking Horsemen, about a band in the 1960s. I also have two apps I've developed which are available for iPads — Full Metal Jacket Diary and The Punky Dunk Project.
Awards season is in full swing. Have any favorites?
I think the Academy members have done a very good job selecting films and achievements this year. Personally, I would have loved to see Robert Redford receive a nomination for his role in All Is Lost. He's a wonderful actor. But I am happy for my friend Bruce Dern and his nomination for Nebraska. He was fantastic.
You've done so many films starting at an early age. When fans see you what do they ask you about most?
Birdy, then Vision Quest. And of course, Full Metal Jacket. I was happy to work on the juggernaut, Dark Knight Rises, as it has introduced my work to a new generation of moviegoers.
Is there a dream project out there in Hollywood for you?
My work has just begun. There are many more hills to climb and horizons to view.
Watch Modine's video on the American Committee for the Weizmann Institute site: http://www.weizmann-usa.org/tomorrow-lab/dedication.aspx?id=f53886a9-b33c-4212-b0fc-62bd935d6f69