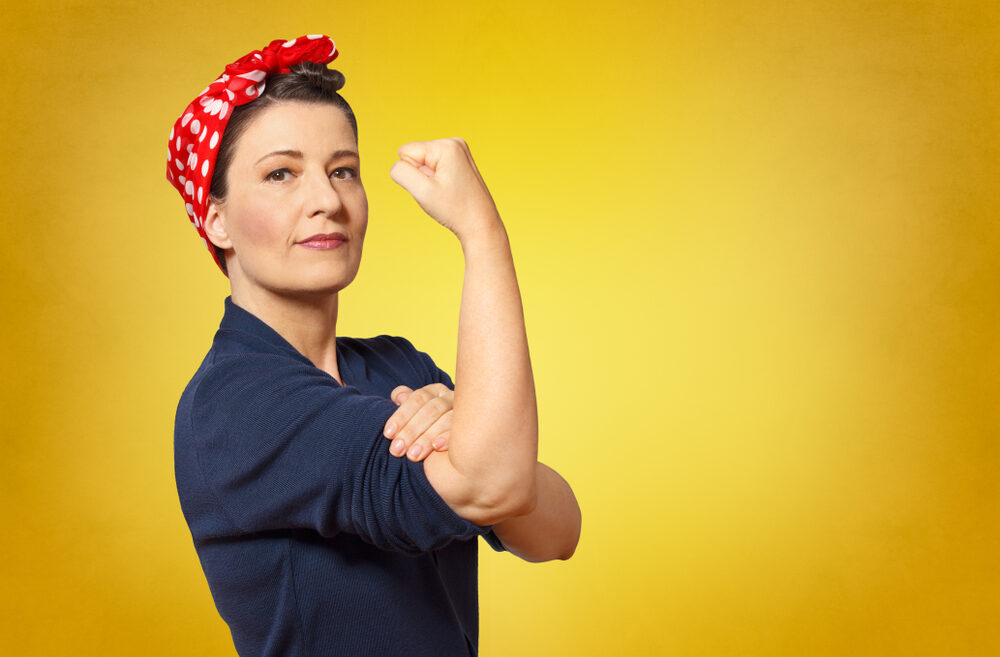 Israeli women from all walks of life are challenging stereotypes and showing they can do it. (Ira Cvetnaya/Shutterstock.com)
On March 8, the world celebrates International Women's Day. And over here at ISRAEL21c, we're taking the opportunity to introduce and celebrate 16 Israeli women from all walks of life who challenge stereotypes in the most inspiring ways. Ladies, you rock.
Ada Yonath
Israeli scientist Ada Yonath, professor at the Weizmann Institute of Science, at a press conference in Rehovot on October 07, 2009. Three scientists, one of them Yonath, won the Nobel chemistry prize on Wednesday for a breakthrough that has allowed researchers to develop powerful new antibiotics. Photo by FLASH90
Prof. Ada Yonath is a true groundbreaker. A biochemist, she won the Nobel Prize in chemistry in 2009, becoming not only the first Israeli woman to win the prestigious award but also the first woman in 45 years to receive it in her field.
Now 80, Yonath was born in pre-state Jerusalem and studied at the Hebrew University and the Weizmann Institute of Science, where she continued as a leading professor.
Since winning the Nobel Prize, Yonath has become a role model in Israel for higher education and has inspired great interest in science, particularly among women. Because who says you need to be a guy to don a lab coat.
     2. Talleen Abu Hanna
Talleen Abu Hanna is one serial barrier breaker. The model and media personality is not only one of the few Israeli-Arab celebrities in the Holy Land, but also the proud winner of Israel's first transgender beauty pageant. Abu Hanna grew up in a Christian Arab family in Nazareth. She shot to fame upon winning the 2016 competition, and has since participated in numerous TV shows, bringing to the fore her beautiful self as well as awareness and recognition of the local LGBTQ community.
     3. Gal Lusky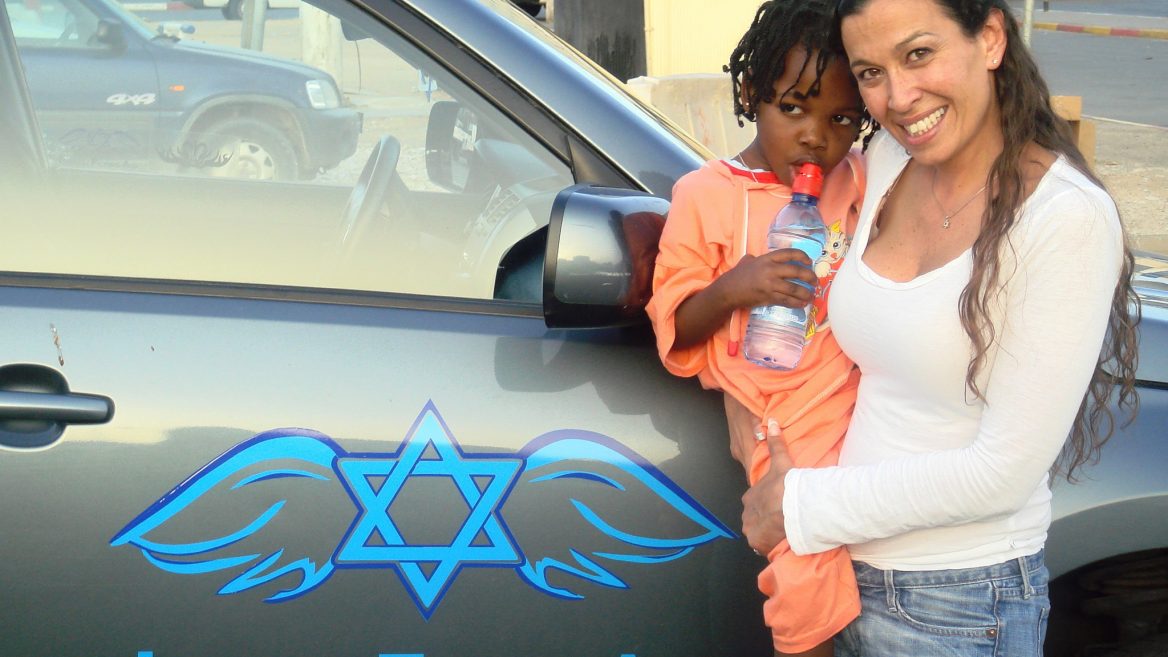 Gal Lusky assisting a Sudanese orphan in Egypt.
With all due respect to the fabulous Gal Gadot, it's Gal Lusky who's a real wonder woman. The founder and CEO of Israeli Flying Aid, Lusky leads aid missions in war-torn and disaster-struck countries, often risking her own life to help others.
Lusky's NGO operates in many countries that don't hold relations with Israel, such as Syria. Not only does her team challenge stereotypes by helping out those often considered an enemy, but also helps break down barriers on the other side of the border. IFA provides individuals across the world with food, medical supplies, health services and infrastructure regardless of their nationality, religion, politics or gender, underlying the fact that no matter who we are, we're all human.
If you want to see Gal in action, you can check out our 21see video here.
     4. Karnit Flug
Portrait of Governor of Bank of Israel, Karnit Flug, in her office. February 25, 2015. Photo by Nati Shohat/FLASH90
For those who in the year 2020 still believe that economics (or anything to with numbers) are best left to a man, let us please introduce Prof. Karnit Flug, former governor of the Bank of Israel.
Flug led Israel's central bank – and much of its economy – from 2013 to 2018. She was considered a stellar governor, garnering worldwide attention and praised for her work.
Flug studied economics at the Hebrew University and Columbia University. Upon leaving the bank she returned to her Jerusalem alma mater as a senior lecturer, passing on to future generations of economists her professional wisdom and personal example.
     5. Pascale Bercovitch
Challenging stereotypes is a way of life for Pascale Bercovitch, a professional Paralympic athlete.
The French-born Bercovitch lost her two legs in a train accident as a teen, but didn't let that get in the way of her big dream – to make Aliyah to Israel and serve in the IDF. Once she completed her army service, Bercovitch embarked on a journalism and media career, working for major outlets and publishing two books.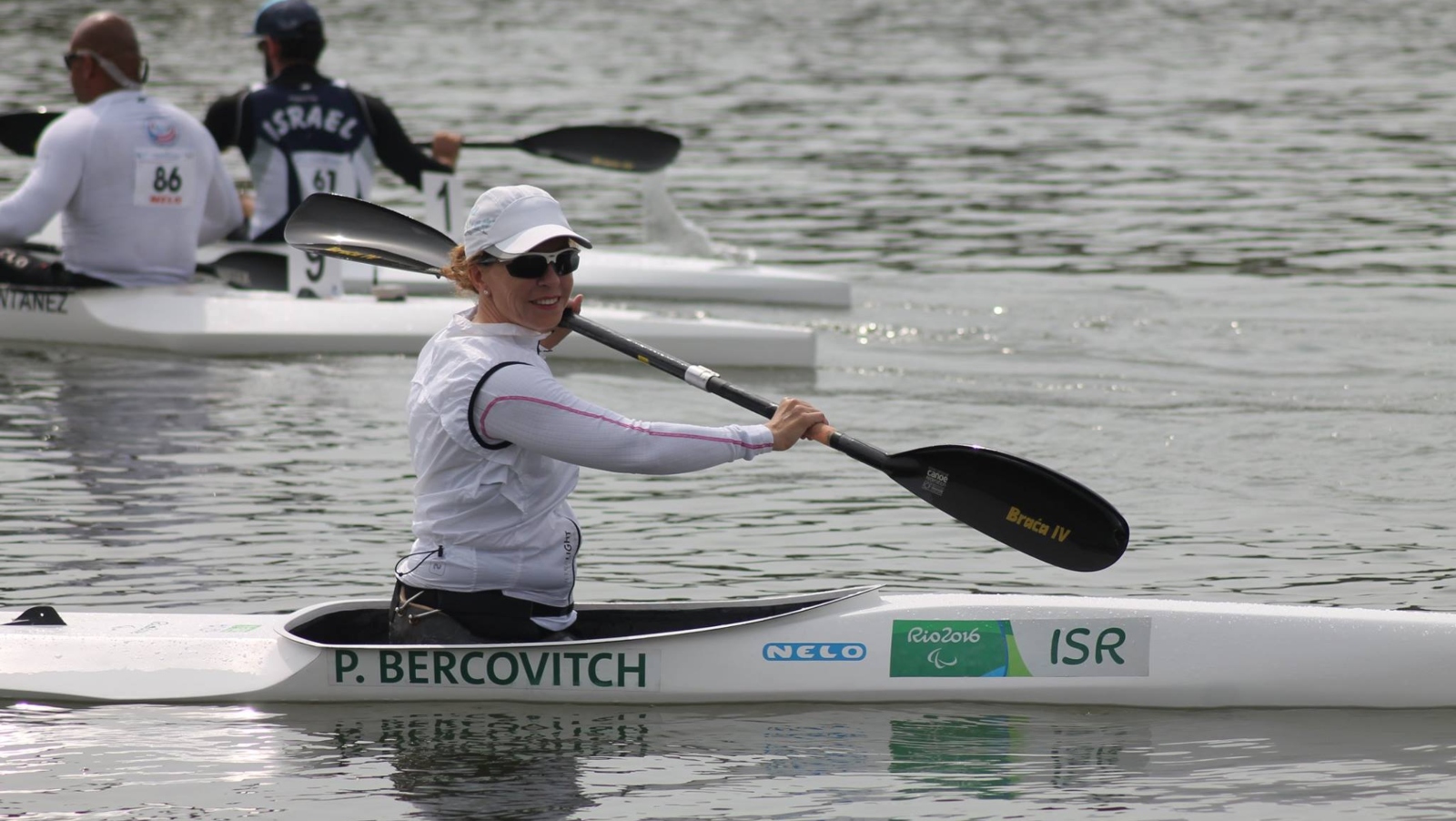 Pascale Bercovitch
If that wasn't enough, Bercovitch also decided to take up athletics, competing at rowing at the 2008 Beijing Olympics at the age of 40 before branching out to climbing and hand-biking. Her sights are now set on Tokyo 2020, and we have a feeling that nothing will get in her way.
     6. Kira Radinsky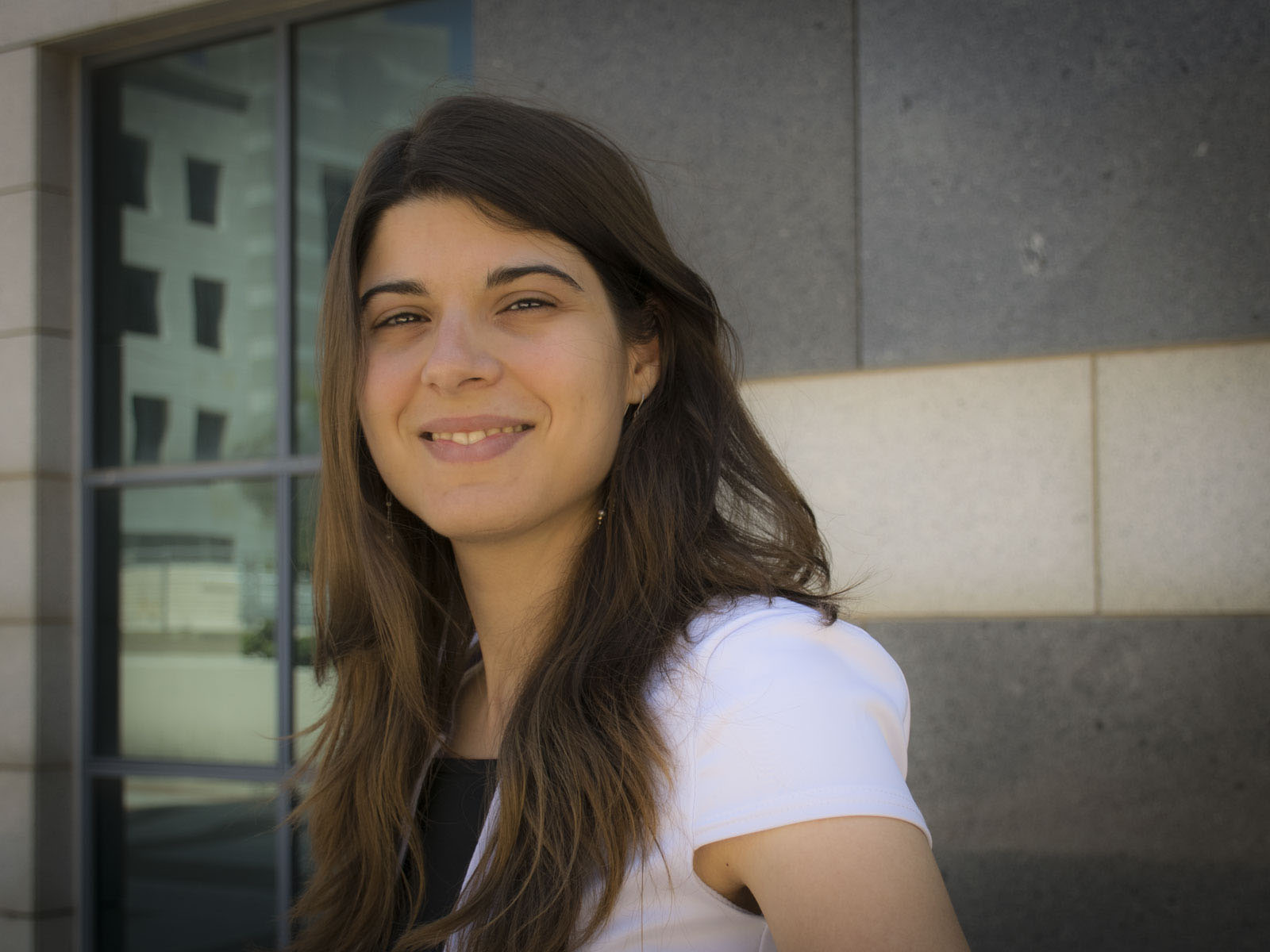 Kira Radinsky (Arielinson/Wikimedia Commons)
Over here at Startup Nation, we love to believe that nothing can get in the way of a good idea. In reality, though, a lot does – family background, financial position and gender, to mention just a few. Unless, of course, you're Kira Radinsky, in which case you're so brilliant that absolutely nothing stands in your way.
Radinsky, 33, who was born in Chernobyl, left Ukraine for Israel as a small child. She lived in Nesher with her grandmother, mother and aunt, and already as a small child exhibited great interest and talent in science. Her mom took on odd jobs to nurture her passion, and Radinsky started studying at the prestigious Technion at the mere age of 15 before serving at an elite technological unit. Radinsky then carried on with her studies, developing an algorithm capable of predicting future events, co-founding a startup and becoming a leading figure in Israeli tech. We'd wonder what great things await her, but she's probably already predicted that.
     7. Lucy Ayoub
The past year has definitely been a great one for Lucy Ayoub. The 27-year-old TV presenter shot to nationwide fame this year when she co-hosted the Eurovision Song Contest, bringing to the show her unique story and personality.
Lucy Ayoub
Born to an Arab-Christian father and Jewish mother who converted upon their marriage, Ayoub grew up in Haifa and completed her military service as a flight simulator instructor in the Air Force.
Her career took off when she participated in the Israeli Poetry Slam contest and started working for the Israeli broadcasting authority. Ayoub became a household name – and one of the few representatives of Israel's Arab community on TV – following the international Eurovision event. She brought to the screen her talent, multiculturalism and professionalism, leading the way forward for acceptance and diversity in Israeli society.
     8. Netta Barzilai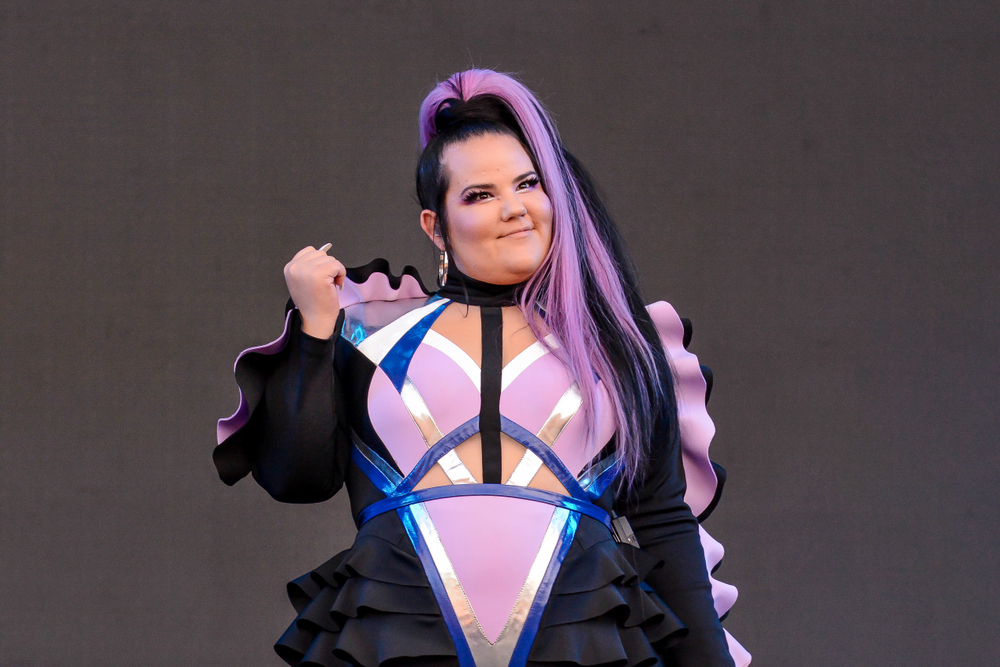 (Review News/Shutterstock.com)
We really couldn't mention the Eurovision without giving a shoutout to superstar Netta Barzilai, who's taught the Israeli public and fans worldwide a thing or two about challenging stereotypes.
Barzilai, the winner of the 2018 Eurovision contest, is smart, sassy, quirky and simply couldn't give a toss about the entertainment industry's view of what women should look, behave and sound like. It's really no wonder that her song "Toy" became an international hit, resonating with women worldwide.
     9. Dina Porat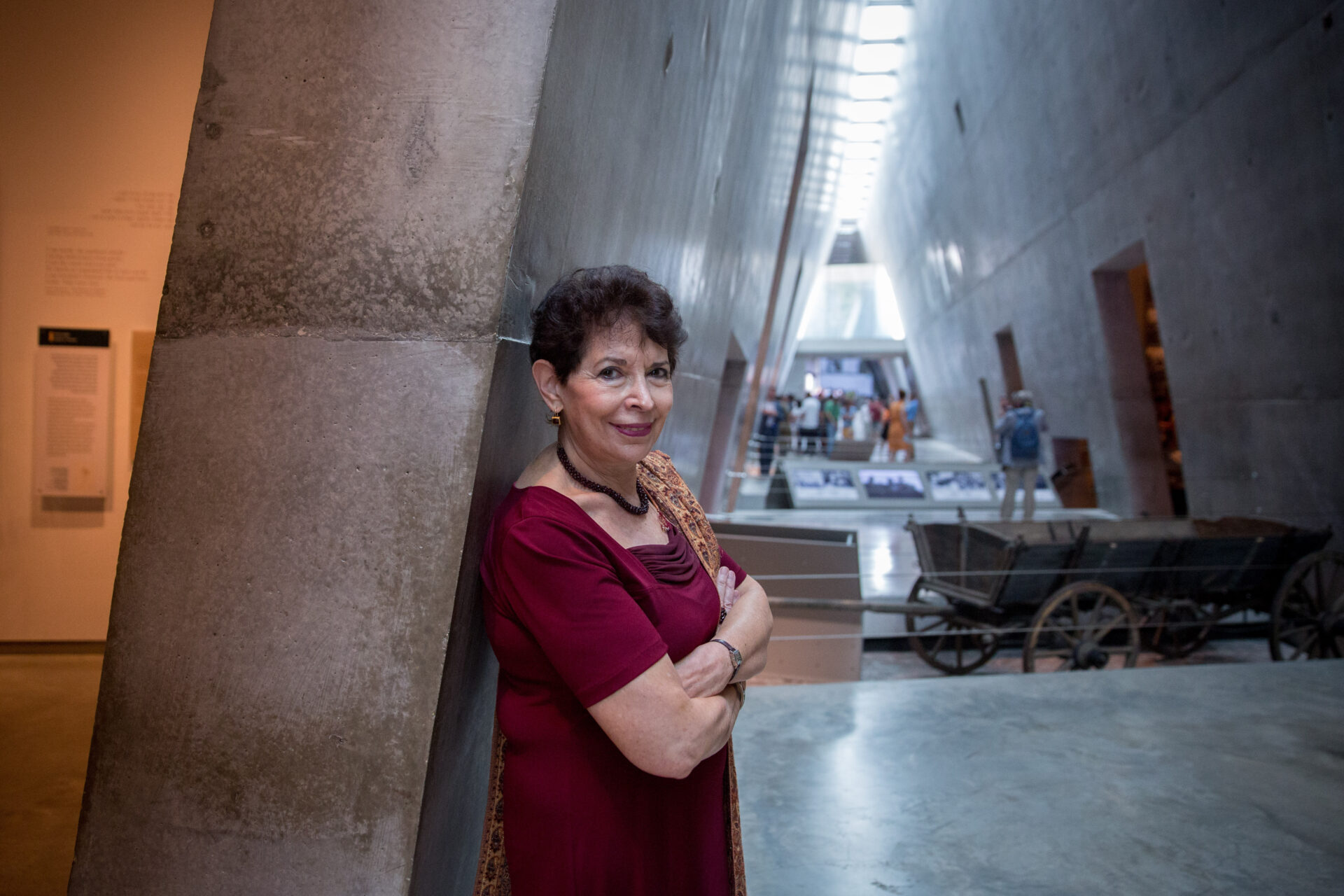 Portrait of Israeli historian, Dina Porat, chief historian of Yad Vashem Holocaust Memorial Museum. May 29, 2018. Photo by Miriam Alster/FLASH90
Prof. Dina Porat is a leading Israeli academic and the chief historian of the Yad Vashem Holocaust memorial, whose long and prestigious career is proof that women can make it to the very top in the ivory tower that is Israeli academia.
Porat's been at the helm of research and teaching at Tel Aviv University for decades, serves as chief historian at the internationally renowned Yad Vashem, and took part in formulating the International Holocaust Remembrance Alliance's working definition of antisemitism.
Not only is Porat a pro, she's also a fabulous and fun public speaker, challenging stereotypes about what academic discussion sounds like and making it so much more accessible and compelling.
     10. Karin Elharrar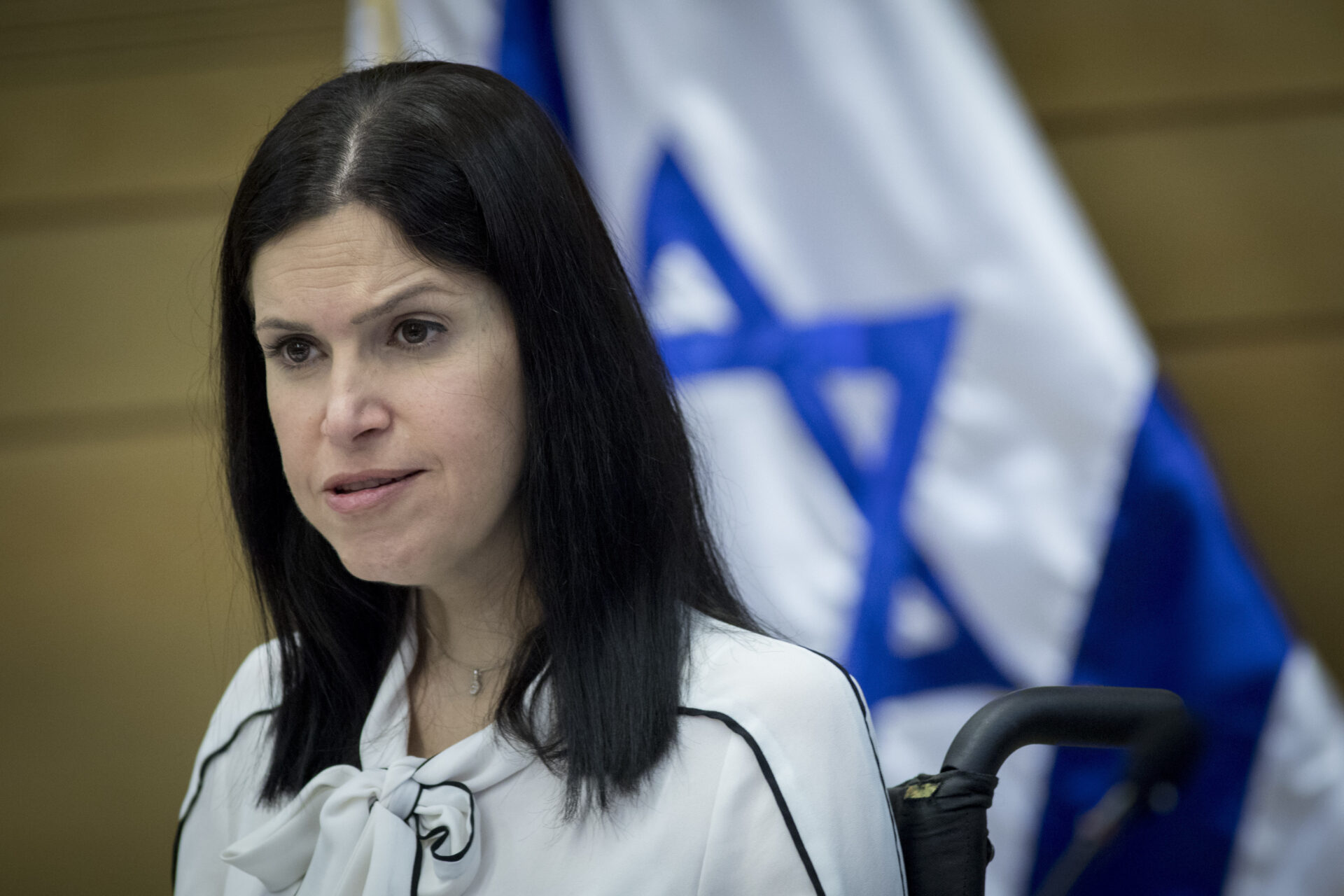 Head of the State Control committee Karin Elharar leads a State Control committee meeting in the Israeli parliament on March 6, 2017. Photo by Yonatan Sindel/Flash90
Karin Elharrar is perhaps best-known for being a member of the Israeli Knesset, but the parliamentarian has had an equally impressive career challenging stereotypes while fighting for the rights of people with disabilities while dealing with muscular dystrophy herself.
A lawyer by training, Elharrar worked at the Rights for Persons with Disabilities Clinic at Bar-Ilan University that dealt with legislation regarding the rights of people with disabilities. Later on, she ran all of the university's legal clinics and established one for the rights of senior citizens and Holocaust survivors, and also founded a group providing legal assistance to economically disadvantaged people.
     11. Naifa Mulla
Chef Naifa Mulla is bent on smashing one stereotype after another, and she's doing it in the most delicious way.
Mulla grew up in the northern Druze village of Yarka, where she learned how to cook the standout dishes of the famous cuisine. But cooking remained a private passion for her for many years, as she moved to central Israel and embarked on a career as a banker – already challenging stereotypes about Druze women's roles and Israeli society's views of them.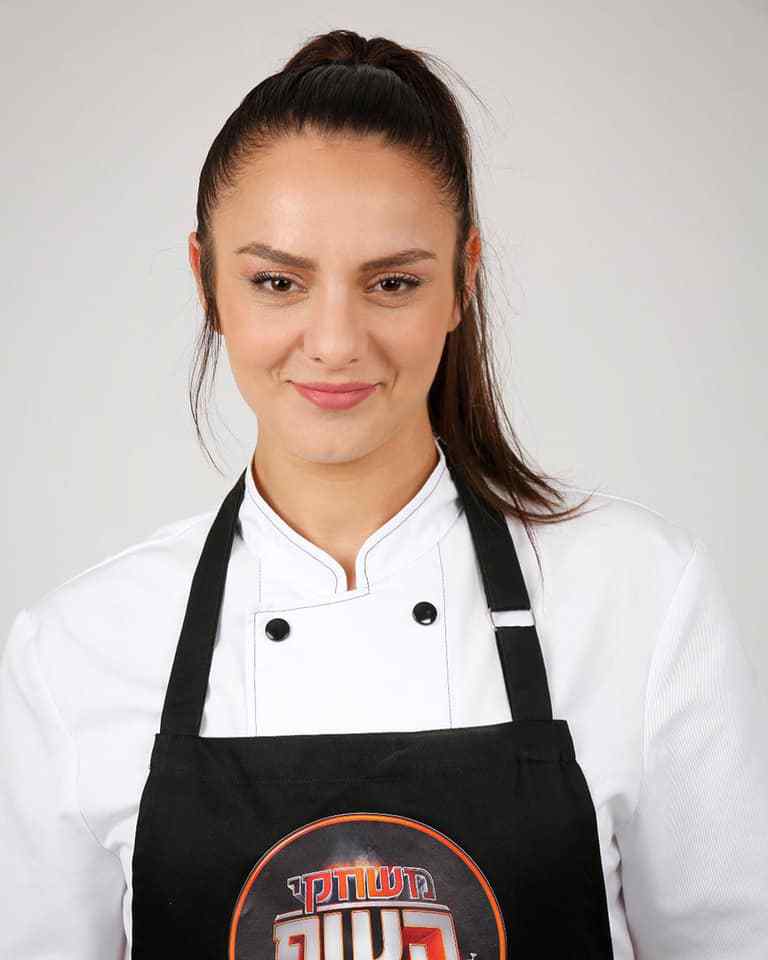 Naifa Mulla
A regular customer at chef Haim Cohen's Yaffo-Tel Aviv restaurant, Mulla asked the cooks there whether they could teach her how to make the pasta she enjoyed. She came in one day to do so and hasn't left the kitchen since. Fast forward five years, and Mulla's appearing on the TV show "Chef Games" and heading the kitchen at the L28 culinary platform, again breaking barriers and proving that women, no matter their background, are slaying it.
      12. Beatie Deutsch
Beatie Deutsch is the kind of woman who just whizzes past stereotypes. And whizzes is the right word – the ultra-Orthodox Israeli-American mom of five also happens to be an award-winning marathon runner.
In a world more familiar with tiny shorts than below-the-knee skirts, Deutsch proves time and time again that passion and talent come in many shapes and sizes, having won the Jerusalem Marathon, the Tiberias Marathon and numerous half marathons, most recently the Miami half-marathon.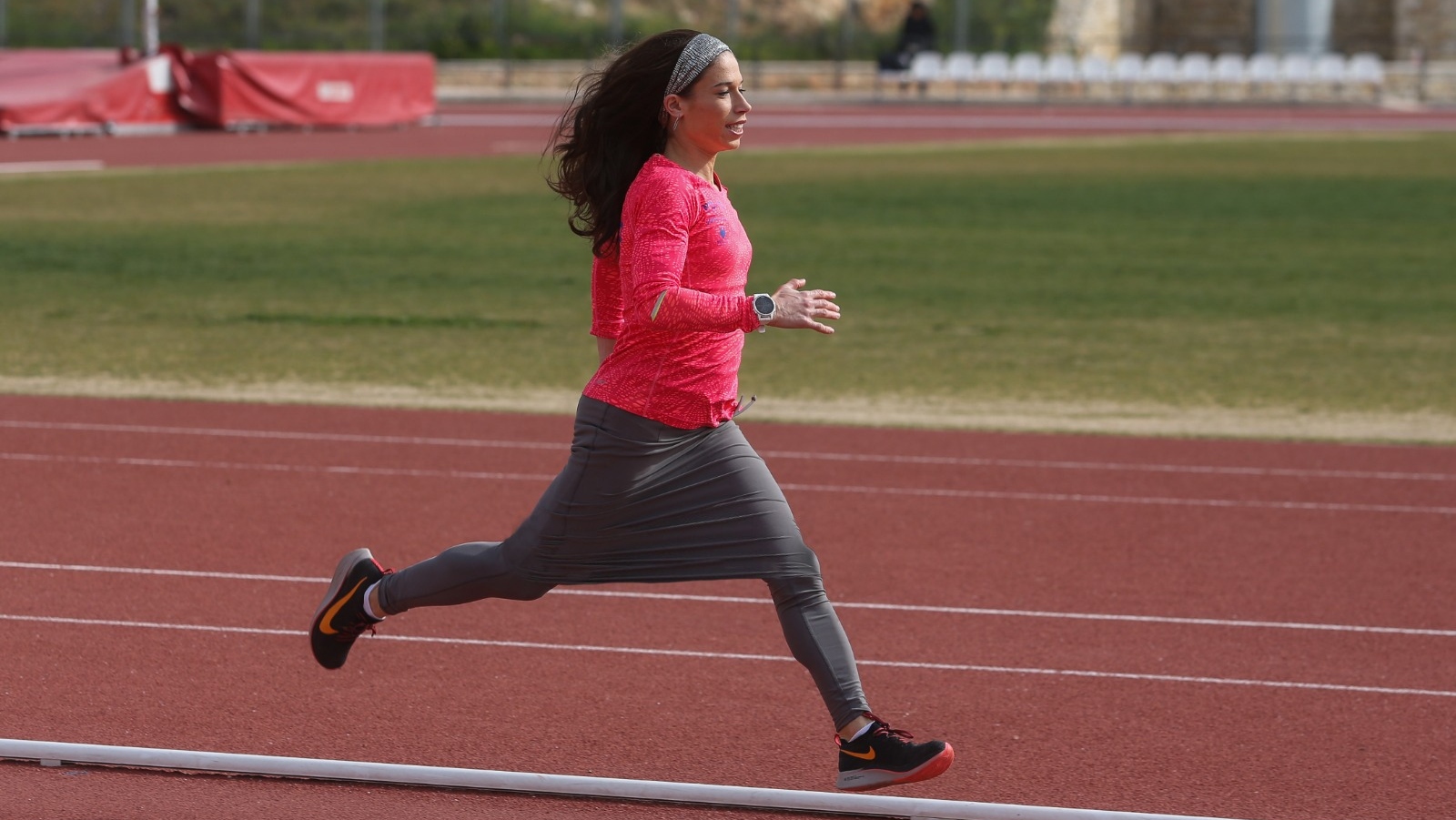 Beatie Deutsch
Speaking to ISRAEL21c after her Jerusalem marathon win, Deutsch shared her thoughts on her passion and achievements.
"I just want to keep enjoying running and inspiring other moms to get out there as well," she said. "I honestly do think raising children is the biggest challenge and every mom out there runs a marathon every day!"
      13. Ester Rada
Singer Ester Rada doesn't have what you'd call a rock star bio: she was born to parents who made Aliyah to Israel from Ethiopia, grew up in a small religious community and only became familiar with the kind of music she'd be creating one day as a teen.
And yet Rada did grow up to be an absolute star: a critically acclaimed singer headlining shows all across the world, incorporating Ethiopian music, jazz and funk to create a wonderfully unique voice. 
      14. Sabrin Saadi
for Muslim police cadet Sabrin Saadi. Photo courtesy of Israel Police
Sabrin Saadi is making history. A youth detective with the Israel Police, she's now the first religious, hijab-wearing female Muslim police cadet.
And she didn't get there by chance. Saadi was born in a village in the north of Israel, where she still lives with her parents. Upon finishing high school, she chose to do her national service with the police and even tried joining the organization once national service was over. Unfortunately for her, the police weren't recruiting at the time, so she went to work at a store instead.
Three years ago, she was offered the opportunity to enlist – which she promptly did, finishing her training and becoming the sole youth detective at a police station in the north where she focuses on online and violent crimes.
While Saadi enjoys great support from her family and community, she's also received threats due to her chosen career path. According to her, these emanate from people who believe a religious Muslim woman should stay at home and certainly not become a police officer. Saadi, however, is undeterred, and plans on making it all the way up to police commissioner.
     15. Deganit Paikowsky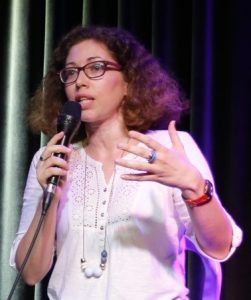 Deganit Paikowsky (IAF website)
Think that space is the final frontier when it comes to gender equality? Think again, and think of Dr. Deganit Paikowsky, VP of Diversity Initiatives and New Space Economy at the International Astronautical Federation.
Paikowsky is one of the leaders of the prestigious, Paris-based space advocacy organization that promotes scientific dialogue and international space cooperation. An academic, she specializes in space policy and security, and is very much in charge of developing the space policy research field here in Israel.
Talk about to infinity and beyond.
     16. Sanaa Mahameed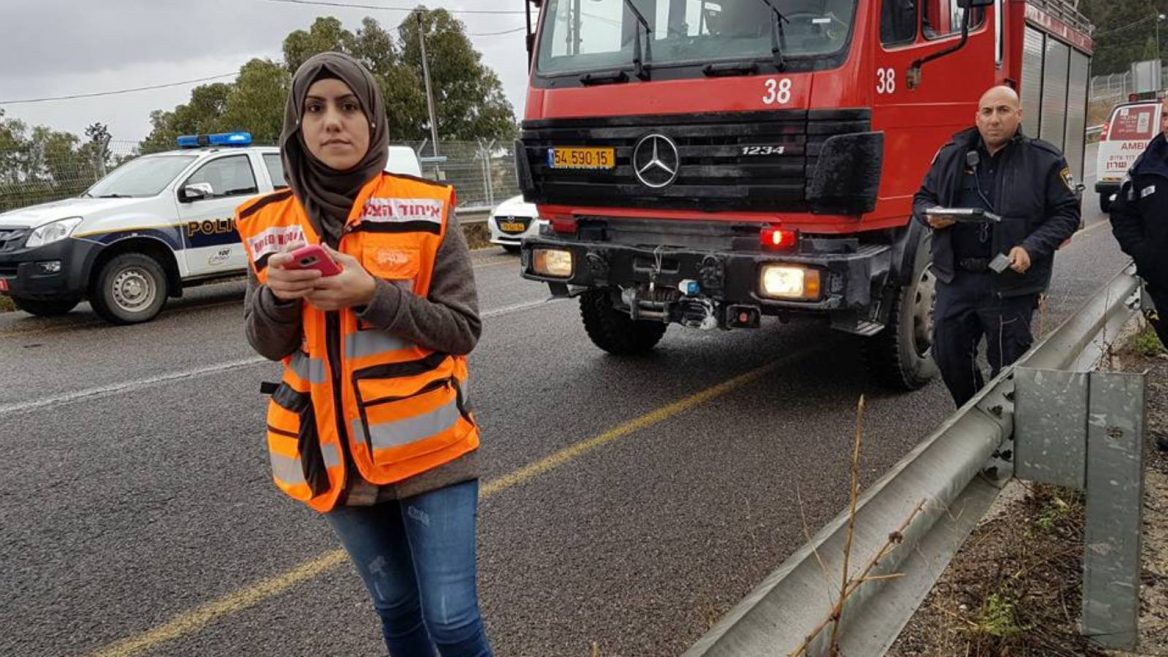 Sanaa Mahameed on the scene of a car crash in northern Israel. Photo courtesy of United Hatzalah
Sanaa Mahameed is as trailblazing as you can get. Not only is she the first female Muslim volunteer EMT in the United Hatzalah of Israel voluntary first-responder network, but also the first religious Muslim woman to drive an ambucycle in the country.
Mahameed got into the rescue services after tragedy struck her family. When she was 16, she found herself helpless and not knowing what to do when her uncle suddenly died. She resolved that never again will she be unable to help in such emergency situations and has since trained as an EMT and ambulance driver.
Unique in her position as a religious Muslim woman working in rescue services, Mahameed has served as a role model for girls and women around her, demonstrating that religious belief and gender don't stand in the way of fulfilling dreams and making the world a better place.