Women constitute only 29 percent of senior academics teaching and doing research in universities and 39% of those in colleges.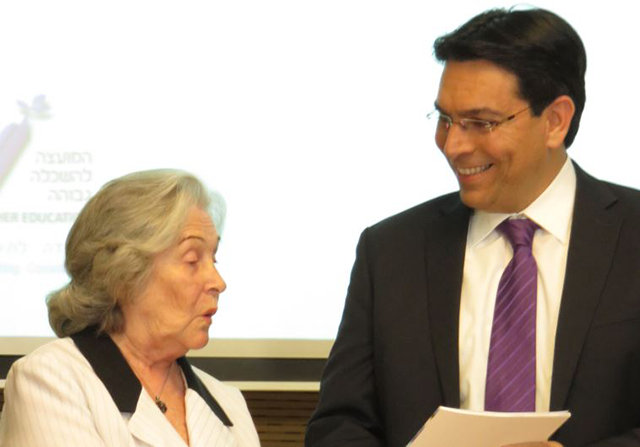 Prof. Ruth Arnon presenting report to Science, Technology and Space Minister Danny Danon. (photo credit:JUDY SIEGEL-ITZKOVICH)
Although women constitute the majority of students at all levels in institutions of higher learning, they are seriously under-represented among senior academic staff in universities and state-budgeted colleges, depriving the country of female brainpower, according to a Sunday report from the Israel Academy of Sciences and Humanities and the Council for Higher Education.
The 70-page report was presented to Science, Technology and Space Minister Danny Danon by outgoing academy president Prof. Ruth Arnon and deputy council chairwoman Prof. Hagit Messer Yaron, an expert in electronic engineering.
Women constitute only 29 percent of senior academics teaching and conducting research in the universities and 39% of those in the colleges, the report stated.
The more the fields involve exact sciences such as mathematics, physics and engineering, the less representation there is of women at assistant and full professor levels, said Prof. Nurit Yirmiya, the ministry's chief scientist and a member of the committee that studied the matter and wrote the report.
But even in the humanities, social sciences and education faculties, women still comprise a minority of senior academics. Arnon said that the situation is a bit better in the field of medicine, but the change there is occurring too slowly, even though women constitute a clear majority of medical students.
Danon promised that in his next proposed budget he would ask for NIS 30 million for incentives to encourage women to enter a science career and rise in the ranks to a high academic level.
Only about 34% of the academics hired by universities and 45% of those by colleges are women, the report continued.
The rate of Israeli women teaching and conducting research in institutions of higher learning is significantly lower than in the US, and compared to the EU countries, Israel ranks second to last.
Arnon, a world-famous immunologist at the Weizmann Institute of Science in Rehovot, said that "higher education is based on excellence. We need to conduct research and hand down our knowledge to the next generation."
The glass ceiling continues to exist and prevents worthy women from becoming professors. If their representation is significantly increased, it will be a boon for the economy and utilize women's talents instead of them going to waste, she continued.
The reasons for these discrepancies and gaps lie in the variety of obstacles during the stages in women's academic careers, according to the report.
Women's advancement is held back when they finish their doctorate and don't have the money or the time to go abroad for post-doctoral studies. The fact that husbands generally have to find a new job abroad, usually in the US, as they accompany their wives is a problem, as is having time for both research and raising a family.
The second stumbling block is when women want to join an Israeli academic staff, while the third is advancement to the highest levels of assistant and full professorships.
The committee recommended expanding the number and size of scholarships for women doctoral students, for women who go abroad for post-doctoral studies and advancing them when they return.
Arnon said that data on women's advancement have to be published automatically every year and that institutions must make annual reports on progress in getting higher positions for women, as this alone would be an incentive to advance them.
Once women do attain an assistant professorship, there is absolutely no reason for them not to reach a full professorship, she added.
Academic institutions must become "more family friendly" so women can manage the family as well as a career, the report said.
Danon said the report was "very worrisome, not only for academia but for society as a whole."
"We will launch a campaign to show the importance of women in science," he said, and provide role models for young girls. He also hopes to introduce legislation and send women academics to lecture around the country to reach this aim.
Asked whether women physicians were discriminated against in their pay compared to men, Arnon replied that they are not discriminated if they are in the same grade scales, but that certain extra jobs with bonuses may be unavailable or less wanted by women than men.