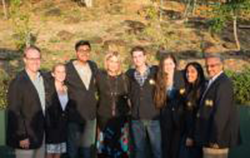 Peter Gruber International Academy students in Israel
On Feb. 5, six Peter Gruber International Academy (PGIA) students embarked on a journey across the world to attend a three-day science program at the Weizmann Institute of Science in Rehovot, Israel, just south of Tel Aviv. The Weizmann Institute of Science is one of the world's leading multidisciplinary research institutions in the natural and exact sciences. The institute has a long history of investigation and discovery rooted in a mission of advancing science for the benefit of humanity.
The Academy has been collaborating with the Weizmann Institute online for the past several years as a part of the school's End Session STEM program. This year, PGIA was invited to send students to a specially created science camp. Michael Bornn, head of school; Andy Palmer, physics and science teacher; and Kevin Williams, a parent, went as chaperones. The following students went to Israel: 12th grader Marcus, 11th grader Aneesh, 10th graders Darby, Hannah and Vanshika, and 9th grader Karen.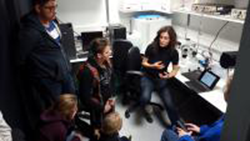 Dr. Yifat Merbl discussed her research on protein modification (last year's recipient of the Gruber Award)
This past week, PGIA students were able to meet with leading scientific minds in the world such as Dr. Yifat Merbl, who was last year's Gruber Award recipient. Meeting these experts and learning more of about their research only furthered these students' passions for science.
"Each student seems to be passionate about a different area of science. This is amazing to watch and will be life altering for these students. We are seeing science right now that will change the world," said Bornn.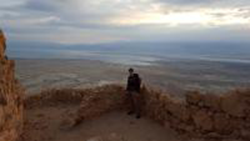 The Dead Sea
After three days of pure science at the Weizmann Institute, the students and their chaperones were able to visit some of the most historic sites on earth. They stayed in a Bedouin tent in the Masada Desert and hiked to the top of the plateau to watch the sunrise. They took a tour of ruins that date back to the first century BC. They also swam in the Dead Sea and toured Jerusalem, seeing firsthand this historic place that evokes so much passion around the world.
This year alone, VI Montessori School and Peter Gruber International Academy (VIMSIA) students will have traveled to Santa Domingo, Madrid, Israel, China, New York, Amsterdam and the Yucatan.