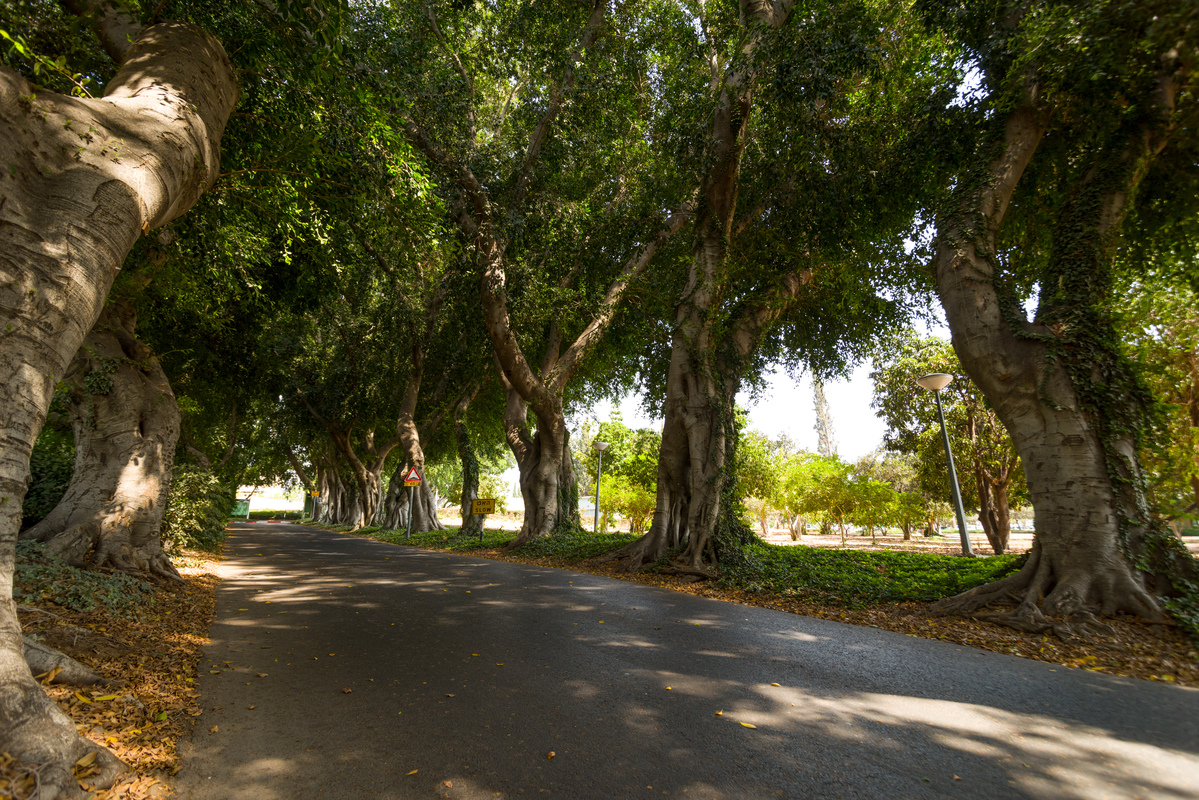 Just some of the thousands of trees on the Weizmann Institute of Science's Rehovot campus
Finally, some positive news about climate change: Even small groves in your backyard or city park help fight the effects of rising temperatures, drought and greenhouse gases.
"Urban orchards and green spaces can contribute to a range of ecosystem services," writes Weizmann Institute of Science postdoctoral researcher Rafat Qubaja in a soon-to-be-published paper.
Those "services" include storing carbon, reducing air pollution, regulating the urban microclimate, cooling and shading, retaining rainwater and soil moisture, recharging groundwater and more.
Qubaja, a 42-year-old father of four from the village of Tarqumiyah in the Palestinian Authority territories, earned his PhD at the Weizmann Institute for his novel work on measuring how much water and carbon trees absorb from the environment.
He began his experiments on the institute's Rehovot campus, where two and a half acres of citrus trees were planted in the sandy soil in 1976.
Tracking the exchange of water and carbon between air and leaves, Qubaja showed that small noncommercial citrus groves, receiving minimal irrigation, can absorb around 65 kilos (143 pounds) of carbon per dunam (quarter acre) annually.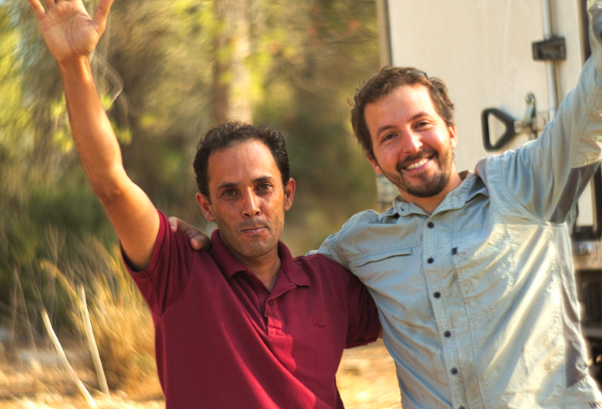 Weizmann researchers Rafat Qubaja and Rafael Stern installing their mobile system to measure energy, carbon, and water in Nehusha Forest. Photo by Jonathan Muller
Driest, warmest forest
"The pioneer in this field is Prof. Dan Yakir," Qubaja says, referring to the Weizmann scientist whom he has come to consider as a cherished mentor, "second father" and family friend.
One of Yakir's other notable protégés is Tamir Klein, principal investigator at the Weizmann's Tree Lab, which specializes in dryland forestry.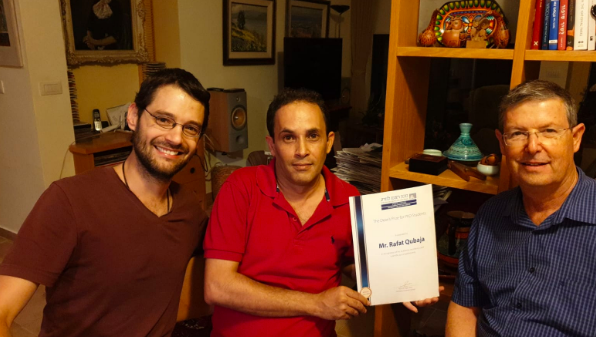 Tree researcher Rafat Qubaja flanked by fellow graduate student Jonathan Muller and his adviser-mentor Prof. Dan Yakir, after Qubaja won the Dean's Prize for PhD students at the Weizmann Institute. Photo by Rafael Stern
Yakir won the 2019 Israel Prize for Research in Geology, Earth Sciences and Atmospheric Sciences in recognition of his groundbreaking insights into the impact of semi-arid forests on the global climate.
"This is poorly understood by scientists," Qubaja tells ISRAEL21c.
There isn't much measurement data on the flux of gases floating between the biosphere here on Earth and the atmosphere around us. The dearth of data is most acute regarding drylands, Qubaja says.
"I am doing my postdoc with Dan about these topics. I started my experiments in 2014 at the Weizmann orchard and in the Yatir Forest, the biggest human-made forest in Israel," he explains.
"Yatir is very important because it's the driest and warmest forest, I believe, globally. We're trying to understand the effects of climate change and Yatir is a few steps ahead because it shows what conditions will be like in the future."
Yakir set up a research station in Yatir nearly two decades ago. He and his colleagues use the Aleppo pine forest as a model for understanding how plants influence the environment and climate, and how trees adapt to environmental stressors like air pollution, heatwaves and droughts.
Dr. Rafat Qubaja taking measurements of carbonyl sulfide in Yatir Forest. Photo by Itay Oz
 One of his lab's recent studies suggests that planting semi-arid forests in two previously neglected areas of Africa and Australia could radically offset human-induced global warming.
Qubaja was the lead author on four papers published by Yakir's group. One study describes how forests in semi-arid regions protect themselves from summer dehydration by absorbing moisture exceptionally well from the atmosphere. This capability also makes the trees good at absorbing and storing atmospheric carbon dioxide.
Semi-arid forests store 70 percent of their carbon underground and it stays there for an average 59 years, as opposed to 18 years in temperate forests. About 18% of the Earth's landmass is semi-arid, and if 20% of that were forested, it would trap and store a billion tons of carbon each year.
"That might not be enough to save the planet, but it would make a significant contribution to mitigating climate change," Qubaja says.
Small actions make a big difference
For his postdoc research, Qubaja invented tools to quantify carbon sequestration – how trees capture and store atmospheric carbon dioxide – on a much smaller scale than in a forest.
"This is usually measured in large scales. To measure the level in urban places is very challenging," he says. "We had to devise our own methods."
What he found is that even small groves sequester a significant amount of carbon and water from the environment.
Dr. Rafat Qubaja devised ways to quantify carbon sequestration in small groves. Photo by Dr. Eyal Rotenberg
 "Many cities, like Paris and London, already understand the ability of trees to trap and sequester carbon, filtering it and other material from the atmosphere," says Qubaja.
"It is increasingly recognized that urban plantations are intimately linked to biogeochemical processes that govern carbon, water, and other materials in the environment."
His research has shown just how much urban orchards and even backyard gardens can contribute to ecological goals.
In addition, he says, "they promote physical and mental health, a connection with nature, and enhanced social relationships and education."
And so, although climate change is a huge threat, little actions like planting a few trees can make a difference.
"It's very important to know that home gardens are helpful in this effort to sequester carbon from the atmosphere and decrease the temperature," he says.
He hopes his results will help urban green spaces planners and managers better understand how to take advantage of trees' natural talents for conservation and ecology.
His studies are continuing. "We are doing a long-term experiment in many different forests of Israel, perhaps also in areas where there is more precipitation."