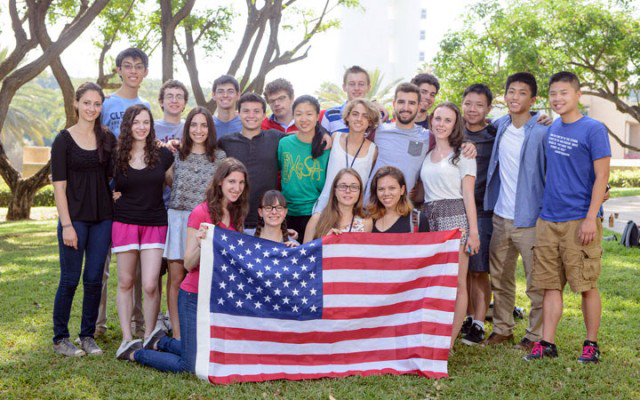 Aulden Foltz, far right in the front row, and other members of the American delegation to the Dr. Bessie L. Lawrence International Summer Science Institute at the Weizmann Institute campus in Rehovot, Israel.
Over the summer, Wiltonian Aulden Foltz conducted scientific research in Israel with the Dr. Bessie F. Lawrence International Summer Science Institute.
Each year, approximately 80 "highly talented" high school graduates from all over the world participate in the month-long program. Aulden was one of 21 Americans this summer.
Through the program, the students got the chance to experience the challenges and rewards of scientific research and learn more about life in Israel.
The students spent the first three weeks conducting research at the Weizmann Institute of Science in the city of Rehovot, where they used sophisticated equipment like electron microscopes, advanced computers, a high-energy particle accelerator and lasers, to explore problems in the fields of biology, chemistry, physics, and mathematical and computer science.
Aulden and her two lab partners – one from the Untied States and the other from Canada – worked in the neurobiology department in the lab of Professor Dov Sagi. Their project focused on visual memories and how they are represented in the brain.
"A combination of wonderful lab partners, mentors and support made even the most grueling lab hours exciting and memorable," said Aulden.
While at the Weizmann Institute, the students attended lectures by senior scientists, departmental talks and visited some of the institute's state-of-the-art facilities.
After the first three weeks on campus, Aulden and her group shifted their focus to a field school in the Judean Desert and the Negev.
Led by expert guides, the students hiked through and got acquainted with the area's unique ecological, geographical, geological, zoological and archaeological characteristics.
Valuable experience
During her time in Israel, Aulden said she was "exposed to just how much incredible research is occurring, not only at Weizmann, but also across the globe."
"Our mentor would take us to see other scientists in the neurobiology department, and they would introduce us to their current work and studies they had done in the past," she said.
"It was so great to be part of an environment where everyone is not only passionate about their work, but also open to sharing their passion and having conversations with one another."
Aulden said her group would have still been "amazing" even if they had not shared academic interests, "but those common interests allowed us to have the most incredible discussions and debates," she said. "It was very, very difficult to leave at the end of the program."
Aulden, a 2015 graduate of the Lawrenceville School in New Jersey, entered her freshman year at Stanford University this fall.
Click here to learn more about the Dr. Bessie F. Lawrence International Summer Science Institute.