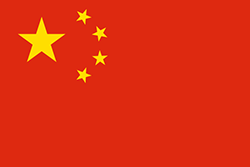 The Chinese flag. Credit: Wikimedia Commons.
(Israel Hayom/Exclusive to JNS.org) Nineteen teenagers who won a prestigious science competition in China are scheduled to visit Israel next week as their prize. The winning group was given its choice of travel destinations and opted to attend a special 10-day workshop hosted by Israel's Weizmann Institute of Science.
The Chinese teenagers will be accompanied by teachers, journalists, and Beijing government officials. They will attend the Smart-Up Science Youth Camp, a collaboration between the Weizmann Institute's Davidson Institute of Science Education and Shirat Enterprises, which promotes joint high-tech ventures between Israeli and Chinese companies. A similar science summer camp was held in 2014.
The program includes nationwide activities involving science and technology sites, such as the Israel National Museum of Science, Technology and Space in Haifa. One of the workshop's highlights will be a meeting with the 2009 Nobel Prize laureate in chemistry, Professor Ada Yonath.
China is one of Israel's primary target markets in terms of developing trade ties and boosting bilateral economic activity. The Smart-Up Science Youth Camp "not only strengthens Israel, but it also produces future Chinese 'ambassadors,'" said Eliezer Manor, founder and president of Shirat Enterprises.