Leaders Begin Term as Organization Prepares to Mark 70 Years of Supporting Science for the Benefit of Humanity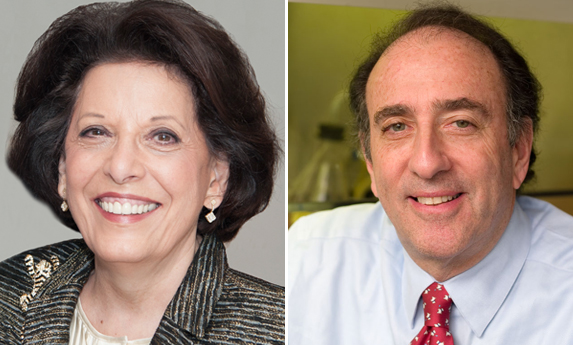 Ellen Merlo and Jay Levy
NEW YORK, NY—November 12, 2013—The American Committee for the Weizmann Institute of Science has announced that Ellen Merlo of New York and Dr. Jay A. Levy of California were elected Chair and President, respectively, by the Board of Directors at its annual meeting. They succeed outgoing Chairman Lawrence S. Blumberg of New York and outgoing President Pennie Abramson of Washington, D.C., both of whom completed three two-year terms of service.
The newly elected officers, along with CEO and Executive Vice President Marshall S. Levin, will spearhead the American Committee's efforts to generate awareness of and philanthropic support for the Weizmann Institute of Science in Israel, a world-renowned center of scientific research and graduate study.
"I'm honored that the Board has entrusted me with this great honor and responsibility," Ms. Merlo said. "As the American Committee's 70th anniversary approaches in 2014, I look forward to working closely with supporters and our leadership on new strategies for growth, while maintaining Larry and Pennie's high standards of excellence. They are both outstanding leaders who have expertly guided the organization and made an enduring impact at the Weizmann Institute."
Ms. Merlo is among the American Committee's most active supporters. A member of the President's Circle, she serves on the Institute's International Board of Governors. She has also held the position of Vice Chair, American Committee Donor Relations and National Programs and is former Chair of the New York Region.
Ms. Merlo brings to the American Committee more than 40 years of corporate experience, including 33 years at Philip Morris USA (PMUSA). Prior to her retirement from PMUSA, she held the position of Senior Vice President, Corporate Affairs. Ms. Merlo heads her own charitable foundation, the Pearl Welinsky Merlo Foundation, which honors her late mother. She is a supporter of numerous Jewish and Israel-related causes.
"Ellen's exceptional record of professional and philanthropic leadership makes her uniquely qualified for her new position as Chair of the American Committee," Mr. Blumberg said. "She has already proven to be a tireless champion of the Institute at the regional, national, and international levels. It is a privilege to pass the mantle to an individual who embodies Weizmann's visionary spirit."
Dr. Levy, who joins Ms. Merlo at the helm of the American Committee, is a world-renowned AIDS researcher and ardent Weizmann supporter.
"I have both a personal and professional interest in advancing exceptional science that makes this a deeply fulfilling opportunity for me," said Dr. Levy. "The Weizmann Institute commands the respect of the global research community. I am proud to be helping steer the American Committee's dynamic work to advance the future of science for the betterment of humanity."
A member of the American Committee's President's Circle, Dr. Levy served as the Bay Area Regional Chair for 10 years, concluding his tenure as Chair in October 2012. Since co-discovering HIV in 1983, Dr. Levy has dedicated his professional efforts to biologic, immunologic, and molecular studies of the AIDS virus. He currently serves as Professor of Medicine in the Division of Hematology/Oncology, Research Associate in the Cancer Research Institute, and Director of the Laboratory for Tumor and AIDS Virus Research at the University of California in San Francisco. Among his many honors, Dr. Levy is a fellow of the American Academy of Arts and Sciences, the American Association for the Advancement of Science, and the American Academy of Microbiology, and is the Editor-in-Chief of the journal AIDS. He is also a member of the World Affairs Council and the Council on Foreign Relations, and is a scientific advisor to several countries.
"The American Committee's National Board is incredibly fortunate to have the brilliant Dr. Jay Levy as its new President," said Ms. Abramson. "He is not only an acclaimed researcher, but also an inspired philanthropist, a passionate believer in the Institute's mission, and a consummate connector of people. I am confident that his leadership will have a critical impact as we forge a path for Weizmann's future."