Over 400 classes entered the competition in memory of Israeli astronaut Ilan Ramon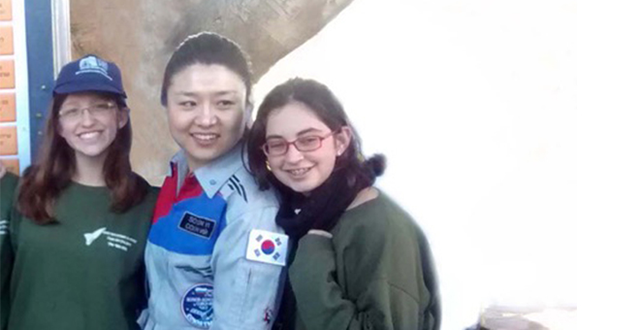 South Korean astronaut Yi So-yeon (center) and two members of the winning team from Jerusalem's Pelech Religious Experimental High School for Girls
A class of 9th-grade girls from Jerusalem were the winners of this year's Ilan Ramon Space Olympics for junior high school students. In addition to receiving a telescope for their school, they and the students from the other 11 classes that reached the final round of the competition had a day at the Weizmann Institute of Science that included a talk from a female astronaut – South Korea's Yi So-yeon.
Some 4,400 students from 404 classes entered the competition, which is now in its 12th year. To enter, students who are interested in science, especially physics, complete an online quiz. Those admitted to the final stage are presented with a mission; this year's mission was to design nanosatellites to probe either the Sun or the moons of Saturn. Each group built a model demonstrating their idea, then presented it to the other groups – in outdoor booths on the Weizmann Institute campus – on the final day of the competition.
"Our idea was to send a spacecraft to asteroid 2007 EB26, which passes close to Earth on its way to the Sun," said Adi Orbach, a member of the winning team from the Pelech Religious Experimental High School for Girls, Jerusalem. "Once it reaches the asteroid it will scatter nanolabs over the asteroid's surface – one type to research the asteroid, another focused on the Sun to study pressure, radiation, magnetic fields, etc."
First prize (as well as second, third, and fourth) was a telescope. Winning is great, of course, but the organizers of the Space Olympics have an ulterior motive: they hope that placing telescopes in schools will spark students' curiosity about nature and the universe. Yi So-yeon reinforced that message, telling the students to treasure the opportunities they have been given through this competition, as she had been given the opportunity to enter a similar competition as a young person.
The Space Olympics is named in memory of Ilan Ramon, Israel's first astronaut, who perished in 2003 along with the rest of the Columbia space shuttle crew. It takes place every year with the support of his widow, Rona, and is organized by Drs. Ilana Hopfeld, Zahava Scherz, Diana Laufer, and Ronny Mualem and Prof. Bat Sheva Eylon, all from the Weizmann Institute's Science Teaching Department; the Ministry of Education; the Ministry of Science, Technology and Space; the Israel Astronomical Association; and the Ramon Foundation.