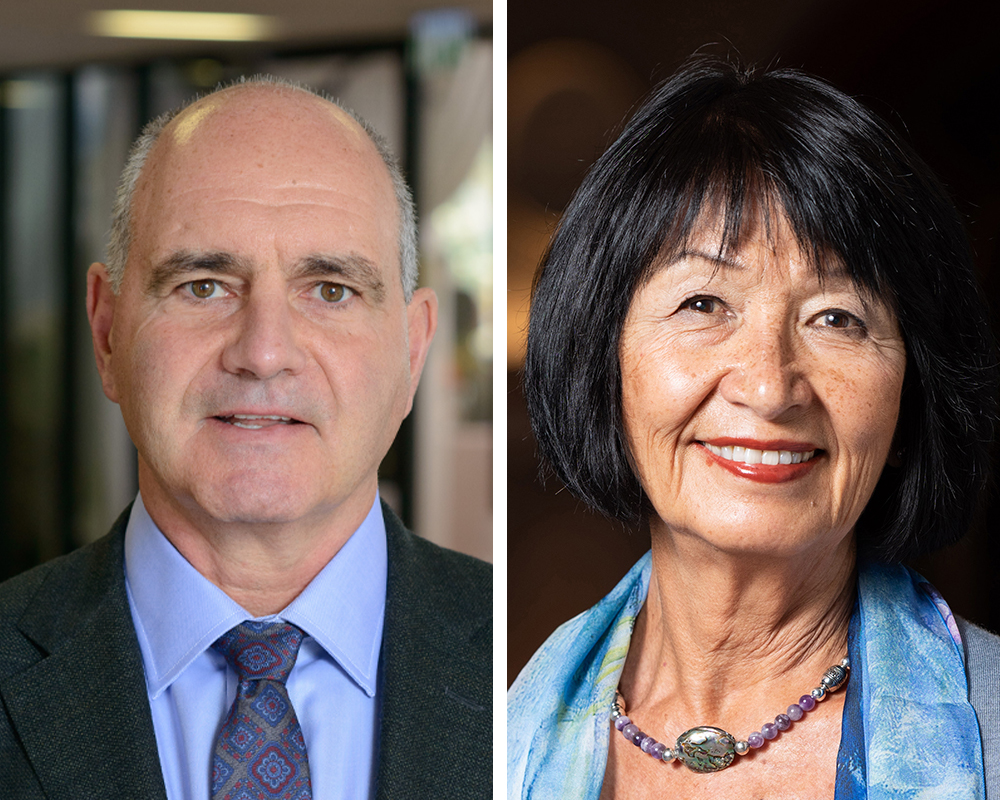 David Teplow and Gladys Monroy
NEW YORK, NY—January 22, 2020—The American Committee for the Weizmann Institute of Science has announced that David Teplow of Boston and Dr. Gladys Monroy of the Bay Area were elected National Chair and President, respectively, by the Board of Directors at its annual meeting. Mr. Teplow succeeds outgoing National Chair Ellen Merlo of New York, who has held the position since 2013. Dr. Monroy takes the helm from Mr. Teplow, who served as President since 2017.
The newly elected officers, along with CEO Dave Doneson, will spearhead the American Committee's efforts to generate philanthropic support for and awareness of the Weizmann Institute of Science in Israel, a world-renowned center of scientific research and graduate study.
Mr. Teplow's family has supported the Weizmann Institute for generations. His great-uncle Dewey Stone was one of the American Committee's founders in 1944 and served as its founding Chairman. His father, Ted Teplow, is a lifetime member of the Board of Directors and a member of the Weizmann Institute's President's Circle. Over the past several decades, David Teplow has become an active lay leader in his own right. Prior to becoming President of the American Committee, he was a member of the National Board and the Weizmann International Board. He and his father also co-chaired the Institute's 2018 Global Gathering in Boston.
 "I'm thrilled to begin my tenure as National Chair and honored that the Board has entrusted me with this great responsibility," Mr. Teplow said. "Having just celebrated the American Committee's 75th anniversary, I look back and draw great inspiration from the example Ellen set through her passion and commitment, and from the example my great-uncle Dewey set through his vision and dedication to this worthy and wonderful cause. Looking forward, I am eager and excited to work closely with our lay and professional leadership to ensure an enduring foundation of support for the Weizmann Institute for the next 75 years and beyond."
In addition to his involvement with the American Committee, Mr. Teplow actively supports other noteworthy organizations, including Combined Jewish Philanthropies (CJP) of Boston and the Dana-Farber Cancer Center Institute through the Pan-Mass Challenge. Mr. Teplow has devoted the past 30 years to helping companies select and implement the optimal technology for managing data, as founder and CEO of two successful professional services firms, Database Technologies and Integra Technology Consulting. He recently joined GreenPages, a leading systems integrator and cloud-services company. As Director of its Data and Analytics Services practice, he is building upon GreenPages's partnerships with Amazon Web Services (AWS) and Microsoft to help clients modernize their database and data warehouse environments.
Dr. Monroy, who takes over the role of President from Mr. Teplow, is an internationally renowned patent and intellectual property attorney. Holding a PhD in biochemistry, she regularly worked with biotech companies in their infancy and during product development in the areas of patent prosecution and patent portfolio strategy. In addition to her involvement with the American Committee, she serves on the Board of Cancer Commons and as a Trustee for the American Association of Cancer Research Foundation.
"On both a professional and personal level, I admire the cutting-edge research taking place at the Weizmann Institute," Dr. Monroy said. "Weizmann attracts the top scientists in the world and then allows them the freedom to follow their curiosity. I am proud to help empower these innovators as they make transformative breakthroughs that will benefit all of humanity."
Together with her husband, Larry Marks, Dr. Monroy has been a key lay leader of the American Committee. She and Mr. Marks have served as Co-Chairs of the Bay Area Region since 2012, and are members of the National and International Boards. Dr. Monroy has also served as Vice Chair of Donor Relations & National Programs. The couple are members of the President's Circle and their major contributions to the Weizmann Institute include, most recently, the Gladys Monroy and Larry Marks Center for Brain Disorders, a lead gift to the American Committee's 75th anniversary Transforming Tomorrow Campaign.
Both Mr. Teplow and Dr. Monroy will play crucial roles in shaping the American Committee's future. "We are thrilled to welcome these two esteemed leaders and philanthropists into their new positions," said CEO Dave Doneson. "Their dedication to the Weizmann Institute's mission of science for the benefit of humanity and their expertise are tremendous assets. We also thank Ellen Merlo for her remarkable service and look forward to her continued involvement in the years to come."