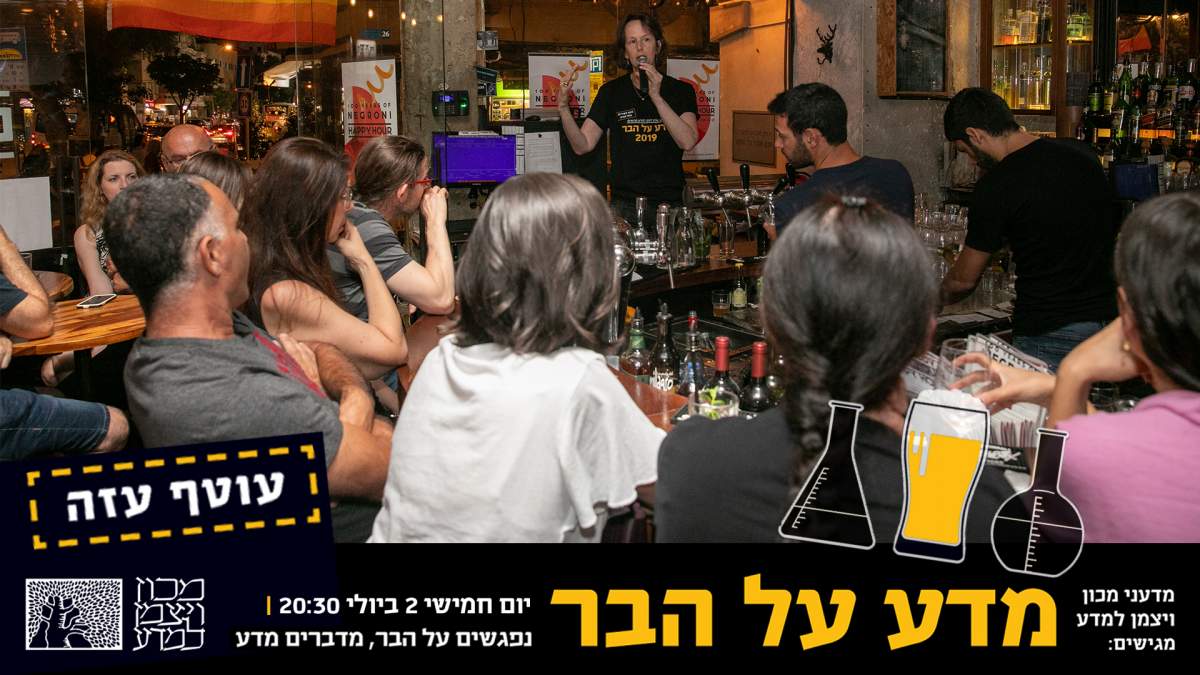 REHOVOT, ISRAEL—June 8, 2020—After a 10-year-long successful run, and 14 events altogether – events that have changed our ideas about pleasurable entertainment and brought an original concept to the night life and culture of the big city – Science on Tap will be held this year in the villages and towns on Israel's border with Gaza and in nearby Ashkelon and Netivot. Dozens of top scientists will be on hand in 32 bars and eateries to talk with patrons and answer their questions about life on the edge – the cutting edge of global science, that is.
The event will take place on Thursday, July 2, at 20:30.
The questions the scientists will address include: Are there parallel universes? What's up with quantum computers? What can bats teach us about ourselves? Can we learn to translate the language of the brain cells? Will smell ever be transmitted over the Internet? What's up with cosmic particles that pass right though our bodies without us ever feeling them? How do our brains and bodies cope with stress? Is there such a thing as an individual in the kingdom of ants? What is the connection between climate, plants, and the coronavirus? And many others…
The Weizmann Institute of Science has a deep commitment to sharing scientific information – and the excitement of discovery and the adventure that is adding to human knowledge – with the public. The Science on Tap format has been widely adopted – in Israel and around the world – and today many varied organizations have their own "On Tap" events. This year, the Institute salutes those living in the Gaza border region, who already knew, even before the coronavirus pandemic, what it meant to be shut inside with one's family, finding ways to cope with isolation, fear, and economic travails.
The scientists are volunteering their time to visit bars and other venues in these towns and communities, including Ashkelon and Netivot.
Entrance is free, but reservations may be required. All talks will be in Hebrew. For more information, go to 2020 עוטף עזה – מדע על הבר , call 08-9343856, or email News@weizmann.ac.il.