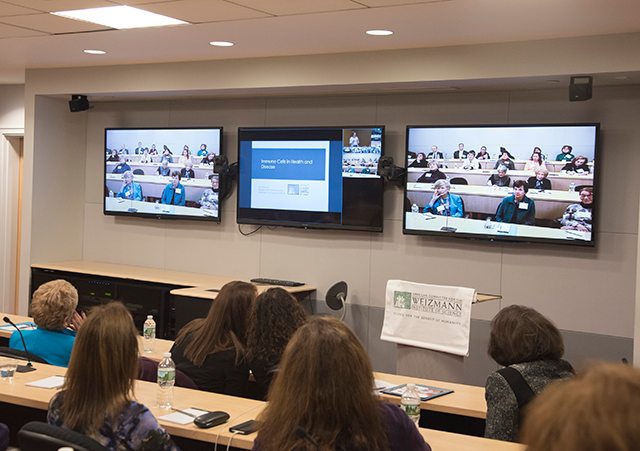 At the inaugural Women for Science virtual conference, guests watched a live video broadcast by Prof. Idit Shachar. Credit: Melanie Einzig
On Tuesday, February 23rd, 2016, the American Committee for the Weizmann Institute of Science hosted the first Women for Science (W4S) virtual conference. Spanning four time zones and attracting over 100 participants, the conference linked attendees to the Weizmann Institute campus from seven video conferencing sites across the U.S. – New York City, San Francisco, Chicago, Detroit, Los Angeles, North Miami, FL, and Coral Gables, FL. Live from Rehovot, Prof. Idit Shachar, Head of the Department of Immunology and incumbent of the Dr. Morton and Anne Kleiman Professorial Chair, discussed the role of immune cells in health and disease.
Prof. Shachar began by discussing the immune system's role in defending the body against pathogens. She noted the importance of having a balanced immune system: under-reaction of the immune system can lead to cancer and infections, while overreaction can lead to autoimmune disease.
Scientists are working to figure out what causes inflammation, she said, and applying their findings to create immune-based therapies. Immunotherapy holds the promise of revolutionizing the fight against cancer, among other applications. Prof. Shachar provided the example of Weizmann Prof. Zelig Eshhar, who developed a technique that uses the patient's own immune system to fight cancer, and which was successfully used to treat leukemia sufferers in a recent University of Pennsylvania clinical trial.
Next, Prof. Shachar gave an overview of her own research, touching on her lab's notable accomplishments, including:
Identifying a novel pathway that maintained the survival of B cells (a type of white blood cell that is part of the immune system).
Identifying a novel receptor that regulates the survival of chronic lymphocytic leukemia (CLL) cells. She and her team hypothesized that blocking this receptor would cause the death of CLL cells. In a clinical trial, CLL cells died more rapidly in patients who received a blocking antibody. She is now investigating a similar technique to block interactions between the tumor and its microenvironment (the surrounding noncancerous cells).
Her lab receives support from Weizmann's new Moross Integrated Cancer Center (MICC), which is harnessing the Institute's multidisciplinary strength to find new ways to prevent, diagnose, and treat cancer.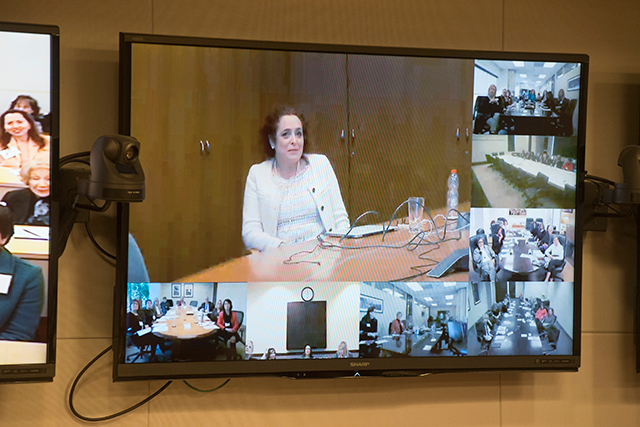 On screen: Prof. Idit Shachar discusses her trailblazing immunology research. Credit: Melanie Einzig
After summarizing her research, Prof. Shachar spoke about the experience of balancing a scientific career with family life. "The path is not easy," she said. Her first child was born when she was a postdoctoral fellow at Yale Medical School, her second after she received a promotion at the Weizmann Institute. Juggling the demands of both motherhood and basic research was a challenge; she described leaving the lab in the late afternoon to pick up her children from school, often returning at night.
She also discussed the discrimination women in science have historically faced. One survey showed that when a man was listed as the lead author of a scientific paper, it received a more favorable rating than when the same paper listed a woman's name. Prof. Shachar said the glass ceiling for female scientists exists today, and used the "leaky pipeline" metaphor to explain why women drop out of scientific fields at various stages of their careers.
This is a situation that the Weizmann Institute is working to change. Prof. Shachar cited the Israel National Postdoctoral Award Program for Advancing Women in Science, a Weizmann initiative that supports outstanding female PhD graduates across Israel. The award helps recipients pursue prestigious postdoctoral fellowships abroad, which is critical to a scientific career. As a result of the program, a significant number of recipients have secured faculty positions in Israeli academia.
Following Prof. Shachar's talk, she took questions from the audience during a lively Q&A, moderated by American Committee National Chair Ellen Merlo. The event concluded with guided conversations around the country, in which guests had the opportunity to discuss their philanthropic efforts, and the role of women in making the world a better place.