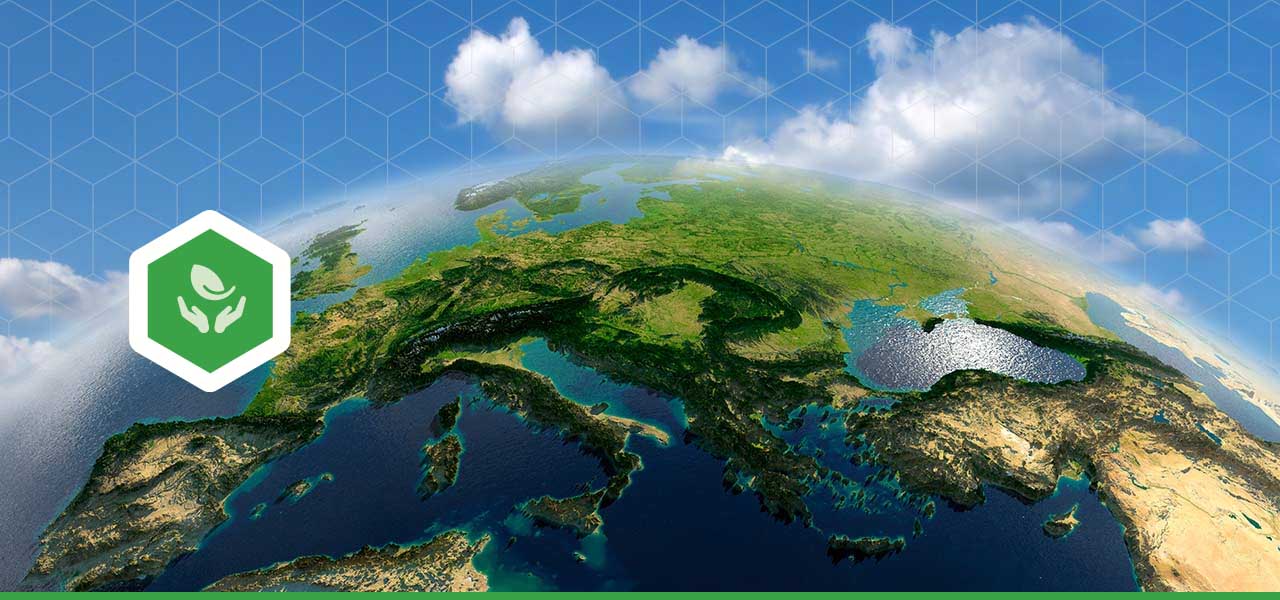 While Earth Day is 51 years old this year, the Earth is 4.54 billion years old – "plus or minus about 50 million years," says the National Geographic Society. And yet in less than 200 years, the blink of an eye, humankind has thrown a wrench into our small planet's carefully tuned systems.
Since the Industrial Age, our remarkable advances have had a flip side: chemicals, pharmaceuticals, fossil fuels, and the like have fouled our water, land, and climate. We have increased Earth's temperature, causing mass extinctions, stronger storms, devastating wildfires, flooding, and food shortages – consequences that will only increase. And while we can all take personal steps, there is ultimately one hope for mitigating human impacts on the planet: science.
As Weizmann Institute scientist Prof. Brian Berkowitz said, "The trick is not to try to solve a global problem, but to do the basic research that will help us understand the messes that we've made. If we're lucky, the data we come up with will lead us to a way to clean it all up."
Weizmann researchers have long been ahead of the climate-research curve: since the Institute's earliest days they have been devising ways to conserve and manage water, developing crops that can thrive in harsh environments, predicting how contaminants behave, studying oceans and the life within, and more.
The theme of this year's Earth Day is "Restore Our Earth" – and in celebration, we'd like to share some Weizmann research aiming to do just that.
AIR. Cloud physicist Prof. Ilan Koren studies the impacts of anthropogenic activity on climate change, particularly the effects of aerosols on the atmosphere. His major advances include a NASA collaboration showing that cloud formation is affected by the lightness or darkness of air pollution particles. The work revealed how aerosols sometimes stop clouds from forming and, in other cases, increase cloud cover. Clouds help regulate how much of the sun's heat the planet holds; thus, how they change in response to greenhouse warming and air pollution will have a major impact on our future climate. In polluted areas, these cloud changes can affect the availability of fresh water and regional temperatures.
In order to increase understanding of how clouds impact climate change, Prof. Koren is using medically inspired algorithms to data-mine clouds and resolve uncertainties in current climate models. He is leading an Israeli-German mission called CloudCT that deploys a swarm of shoebox-sized satellites to take images of clouds' 3D structures. By investigating small features that are often missed by other technologies, CloudCT could improve atmospheric modelling and climate prediction. 
WATER. Prof. Brian Berkowitz uses computer modeling to predict how water and pollutants – such as oil from a spill – move in groundwater systems. Such modeling is a key part of any environmental plan, particularly if the pollution will be remediated. While studying flows in Nevada, which has hard rock formations containing many fractures and where the U.S. planned to store nuclear waste, Prof. Berkowitz had a "weird and wonderful idea." Aiming to determine what would happen if water and radioactive material were released into the fractures, he used MRI techniques, like those used to study the human body, to measure how fluids flow through rock fractures. The plan worked, and today his innovative modeling technique is being used around the world.
However, predicting how pollutants move is not enough for Prof. Berkowitz. He also wants to remove them from our water. He developed a novel approach to remediating groundwater pollution: a nanotechnology-based system that "defangs" contamination before it spreads, and which transforms dangerous toxins into harmless oxygen and carbon. The patented technology, now being developed for commercial licensing, could revolutionize pollution treatment in industrial settings.
Today one of Prof. Berkowitz's biggest concerns is the amount of pharmaceuticals, such as estrogen, in our water. By entering the food chain, they are leading to anomalies such as fish populations that are entirely feminized, damaging entire ecosystems. Fortunately, he is working on ways to remediate this very modern, and devastating, problem as well.
EARTH. One of the reasons Weizmann has long been a leader in environmental science is its geographic location. Finding ways to conserve and manage a limited water supply, growing sufficient food in harsh conditions, and thriving in a semi-arid climate has led to advances that benefit the world. Take, for example, the Yatir Forest Research Station established decades ago by Prof. Dan Yakir. The station, sited in a forest at the edge of the Negev Desert, is part of NASA's FLUXNET, a global network of sites that monitors ecosystem-atmosphere exchanges. One of the most advanced climate-reporting stations in the semi-arid region from North Africa to Tibet, Yatir has revolutionized what we know about dryland forests and their contribution to the climate system.
Prof. Yakir – who recently won the Israel Prize for his groundbreaking environmental research – has made important contributions to field of global climate change, such as showing that trees can trap CO2 and, thus, reduce levels of the greenhouse gas in the atmosphere.
"What we have in Israel is the driest forest in the world," says Dr. Tamir Klein, a protegee of Prof. Yakir. Dr. Klein already has an international reputation for advances like determining how trees "communicate" and how they live in Israel's deserts. As climate change desiccates more of our planet, "understanding the mechanisms that help a tree survive in dry conditions is of supreme interest to science and decision-makers," he says.
His work has global implications; for example, after discovering wild almond trees in the Negev, Dr. Klein revealed why these trees tolerate drought so much better than their cousins in commercial orchards. The discovery "could help almond growers all over the world," says Dr. Klein. "We can use the wild almond as a rootstock in the drier, hotter future that is awaiting us."
Dr. Klein's Tree Lab also studies the effect of rising CO2 levels on tree survival. He found that lemon trees in the Negev close their stomata – like the pores of our skin – after absorbing enough carbon, preventing CO2 overload and water loss. "Yes, the climate will be warming and drying," but species with this built-in regulation system can survive drought. "What we now know might affect how we give predictions of CO2 effects on trees in the future," he adds.
Weizmann scientists are investigating ways to heal the Earth and help us survive in a changed world. As Dr. Klein says, "My colleagues and I feel the pressure. Society is looking to us for solving these issues and it won't be easy." You can make it a little easier: your Earth Day gift will help Weizmann scientists help the planet – and us.