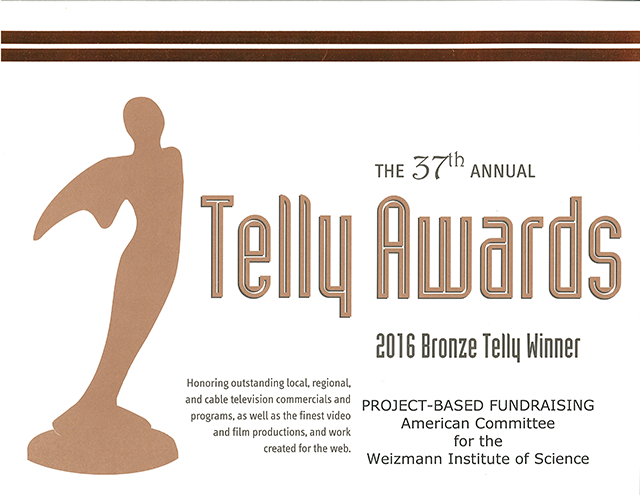 NEW YORK, NY—July 18, 2016—The Telly Awards, one of the world's premier honors recognizing outstanding films and videos, has named the American Committee for the Weizmann Institute of Science as the winner of a Bronze award in the 37th Annual Telly Awards in 2016.
A Bronze Telly was awarded in the category of Online Video, Fund Raising, for the film "Project-Based Fundraising." The video introduces the American Committee's online fundraising initiative, which encourages donors to create peer-to-peer fundraising pages to support research projects that match their personal passions and interests.
The initiative offers participants an opportunity to become "partners in innovation" with Weizmann Institute scientists by helping to fund one of twelve cutting-edge research projects focusing on healing lives around the world, fighting cancer through science, protecting the earth, advancing education and science literacy, developing the technologies of the future, and revealing the mysteries of the universe. The award-winning video takes viewers on a virtual walk through the process of creating a fundraising page, and inspires ideas for crowdfunding campaigns with creative examples of events to fundraise around, including bar and bat mitzvah projects or community walks or races.
The video was produced with Flightpath, a New York digital agency.
Founded in 1979, the Telly Awards is a highly-respected international competition, representing the top work of the most prestigious advertising agencies, production companies, television stations, cable operators, and corporate video departments. This year, there were nearly 13,000 entries from all 50 states and numerous countries.
A distinguished judging panel of over 600 accomplished industry professionals judged the competition, which was one of the most successful in the long history of the Telly Awards. Approximately 18 to 25 percent of entries are chosen as winners of the Bronze Telly, making it a significant creative achievement.
The American Committee's winning entry may be viewed online on WEIZMANN-USA.ORG's Project-Based Fundraising page.