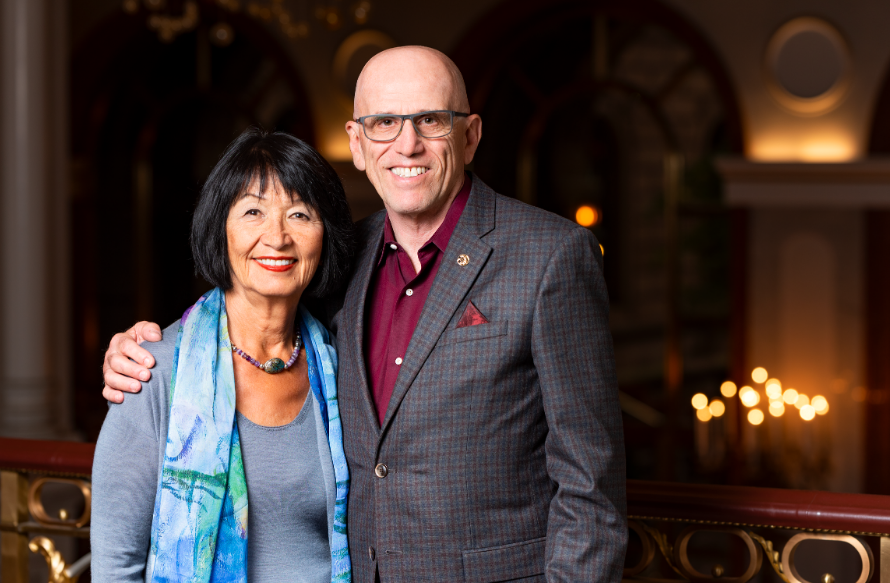 Dr. Gladys Monroy and Larry Marks
SAN FRANCISCO, CALIFORNIA—January 5, 2021—The American Committee for the Weizmann Institute of Science announced that Bay Area philanthropists Dr. Gladys Monroy and Larry Marks have increased their support of brain research at the Weizmann Institute by more than $5 million. Their giving towards neuroscience at Weizmann now totals more than $11 million. Located in Rehovot, Israel, the Weizmann Institute is one of the world's leading centers of multidisciplinary scientific research and graduate study.
The couple's latest gift will support the establishment of the Monroy-Marks Integrative Center for Brain Disorder Research, which will be part of Weizmann's flagship Institute for Brain and Neural Sciences. The new Institute will bring together more than 40 world-renowned Weizmann research groups to uncover the brain's mysteries. 10 centers within the Institute will focus on the most pressing topics in neuroscience—from mental health to neurodegenerative diseases and beyond. The Monroy-Marks Center will serve as a connection point between these 10 centers, linking research from individual labs to clinical opportunities in Israel and abroad, and helping to translate findings from the scientist's bench to the patient's bedside.
In addition to supporting the operation of the Monroy-Marks Center, the gift will also help fund the construction of a state-of-the-art building on the Weizmann campus, where the Institute for Brain and Neural Sciences will be housed.
In 2017, Dr. Monroy and Mr. Marks dedicated $6 million to accelerate cutting-edge brain research at Weizmann. Their most recent gift elevates and broadens the impact of their earlier commitment. Previously, they established a Career Development Chair for Dr. Assaf Tal, an outstanding young scientist who is using advanced technology to study the brain at the molecular level.
The couple's desire to support neuroscience research is deeply personal. "As we've gotten older, many people we know have been touched by Alzheimer's, Parkinson's, or dementia," Mr. Marks explained. "My best friend lost his battle with Alzheimer's this year, and we wanted to do something to help fight this devastating disease." He added, "As a cancer survivor, I've been encouraged by the great strides cancer researchers have made. By comparison, the field of neuroscience is still in its infancy."
As longtime Weizmann Institute supporters and Co-Chairs of the American Committee's Bay Area Region, the couple believes the Institute is poised to make transformative discoveries in this area. "The Weizmann Institute's focus on scientific freedom, collaboration, and curiosity have made it one of the world's premier research institutions," said Dr. Monroy, who also serves as President of the American Committee's National Board of Directors. "We're thrilled to be able to help translate basic science at Weizmann into treatments, cures, and prevention methods for brain disorders."
Dr. Monroy, who holds a PhD in biochemistry, is an internationally renowned patent and intellectual property attorney and was a senior partner at the law firm Morrison & Foerster, Palo Alto. She regularly worked with biotech companies in their infancy and during product development in the areas of patent prosecution and technology transfers. A highly accomplished California real estate broker specializing in commercial real estate, finance, and investment, Mr. Marks previously conducted biochemical research at Abbott Laboratories and corporate product training at Hewlett-Packard. He is also a longtime board member and lay leader of several local senior living organizations, including the San Francisco Campus for Jewish Living and the Moldaw Residences in Palo Alto.
"As lay leaders and visionary philanthropists, Gladys and Larry are essential members of the Weizmann Institute family," said Dave Doneson, CEO of the American Committee for the Weizmann Institute of Science. "With this transformational gift, they have expanded their support for Weizmann's innovative neuroscience research, which will lead to game-changing discoveries that will improve lives across the globe."
"We're thrilled that Gladys and Larry have decided to build upon their philanthropic legacy at Weizmann in such a meaningful way," said Andy Weissman, Executive Director, Bay Area Region, American Committee for the Weizmann Institute of Science. "Their passion for Weizmann science, and for brain science in particular, will have a lasting impact on the Institute and on all those who benefit from its vital research."