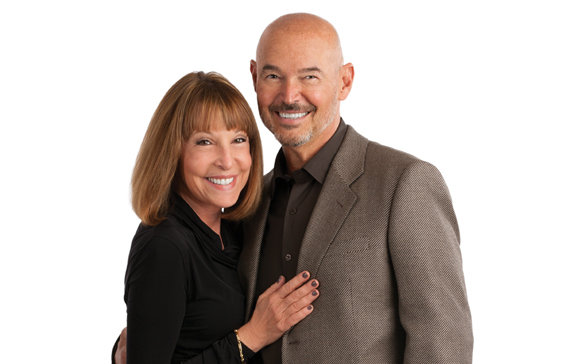 Nancy and Stephen Grand
NEW YORK—November 5, 2013—The American Committee for the Weizmann Institute of Science announced today that Nancy and Stephen Grand of San Francisco have committed $50 million to advance the international study of personalized medicine.
The funds will be used by the Weizmann Institute of Science in Rehovot, Israel, to operate the recently established Israel National Center for Personalized Medicine (INCPM). The Grand gift is the single largest contribution ever made to the American Committee in its 70-year history supporting scientific research and science education.
As the only facility of its kind in Israel and in the region, the Nancy and Stephen Grand Israel National Center for Personalized Medicine is a state-of-the-art biomedical research center focused on four innovative fields: genomics, protein profiling, bioinformatics, and drug discovery. Personalized and predictive medicine uses information about a person's genes, proteins, and personal history to prevent, diagnose, and treat disease.
The Nancy and Stephen Grand Israel National Center for Personalized Medicine is located on the campus of the Weizmann Institute with a national steering committee headed by Aaron Ciechanover, the 2004 Nobel Prize winner in Chemistry. The Center is a national consortium led by a steering committee including representatives from major universities, hospitals, and the biotechnology sector in Israel. It serves Israel's life sciences research community, universities, hospitals, and other researchers in the pharmaceutical, biotechnology, and biomedical industries. The Center will collaborate with researchers from leading institutions abroad, and will offer the advantage of drawing upon Israel's diverse genetic pool comprised of populations from around the globe.
"Nancy and I recognize that Israel is a world leader in science and technology. This gift enables Weizmann to equip itself to participate in the exploding world of genetics and to find cures for diseases to improve the human condition. We all know that the brilliance of Weizmann's scientists will result in major progress from which we will all benefit. In addition, all Israeli scientists who wish to work in this new field will have facilities and teams of other scientists in Israel with whom to collaborate without needing to travel to other countries to do this important work. We are thrilled to assist in this powerful effort," Stephen Grand said.
Ellen Merlo, Chair of the American Committee, and Marshall S. Levin, Executive Vice President and CEO, who announced the gift today, said, "Nancy and Stephen are exemplary humanitarians and true leaders. With this transformational gift, the Grands have given optimism and hope to millions of people around the world. We cannot think of a more powerful and meaningful commitment to our mission of Science for the Benefit of Humanity."
Prof. Daniel Zajfman, President of the Weizmann Institute, said that the Grands' extraordinary gift will profoundly influence the future of biomedical research. "Stephen and Nancy Grand are full and valued partners in our audacious vision for the future," he said. "The Nancy and Stephen Grand Israel National Center for Personalized Medicine serves not only our own scientists, but researchers from all over the country. In other words, all the citizens of Israel, as well as all people around the globe, have reason to be grateful to the Grands for their wonderful generosity."
Stephen Grand is the co-founder of Grand/Sakwa Properties, one of the largest developers of residential and retail properties in the Midwest. He has been involved in the development of millions of square feet of residential and commercial properties. Before he embarked on his real estate development career, Stephen was president and owner of Deco-Grand, a large manufacturer of precision components and assemblies for diesel engines and automotive industries which he owned and operated for 20 years after succeeding his father, the late Sam Grand, a great supporter of Israel. Nancy Grand is the immediate past president of the Jewish Community Federation and Endowment Fund in San Francisco.
The Grands are active in numerous philanthropic activities throughout the United States and in Israel, among others the Multiple Myeloma Research Foundation and Technion-Israel Institute of Technology.