Two years ago, 18-year-old Rebecca Perl never would have imagined creating her own start-up. That all changed when she participated in the Camp Inc. Business Academy, a Jewish overnight camp in Colorado that gives high-schoolers the skills to become future innovators. Partnering with other campers, Rebecca developed the concept for DiabeTECH, a company that would create an app, implant, and insulin pump to make managing diabetes easier. When American Committee for the Weizmann Institute of Science leaders spoke at Camp Inc., they were so impressed with Rebecca's idea that they introduced her to world-renowned Weizmann diabetes researcher, Prof. Michael Walker. After moving to Israel this year, Rebecca finally had the opportunity to meet Prof. Walker and visit the Weizmann Institute. Now living in the "start-up nation," Rebecca shares the genesis of her invention – and how the Institute is helping her make her vision a reality.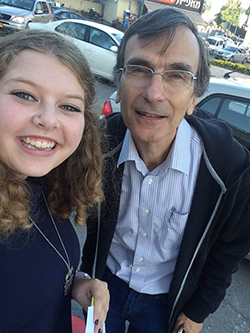 Rebecca Perl and Prof. Michael Walker
American Committee for the Weizmann Institute of Science (ACWIS): How did you and your fellow campers come up with the idea for DiabeTECH?
Rebecca Perl (RP): We were on the bus on the way back from one of our very first field trips. I was talking about living with diabetes and how sometimes, the management of my diabetes gets pushed to the side, especially with checking my blood glucose levels (one of my least favorite things to do). One of my friends turned to me and said, "Well, what if you didn't have to?" And at that point, we started to develop the ideas surrounding DiabeTECH.
ACWIS: How do you think this invention will help the many people who are living with diabetes?
RP: Diabetes supplies are incredibly expensive. It costs around a dollar per testing strip and even more per needle. Not only could this invention help make diabetes management more efficient and increase diabetics' safety, but it could also lower the cost of diabetes management, specifically for people without insurance. This could be a potentially lifesaving invention.
ACWIS: Were you familiar with the Weizmann Institute of Science before staff members from the American Committee spoke at Camp Inc.?
RP: I had never heard of the Weizmann Institute before that day. We had the opportunity to learn about what the Weizmann Institute does – scientific research – and what that research has come up with, such as new advances in cancer research, diabetes, and other genetic and biological breakthroughs.
ACWIS: We understand that the American Committee connected you with Prof. Michael Walker, a pioneering diabetes researcher at the Weizmann Institute. Tell us about your communications with Prof. Walker. How did he help you develop your idea?
RP: Prof. Walker has been working on diabetic research for many years and was excited to hear about the idea we had. I remember getting excused from my 12th-grade English class to go to my guidance counselor's office for a Skype call with Prof. Walker – and it had to be Skype because I couldn't call Israel for free. We went over the foundations of DiabeTECH, and he gave us tips on how to improve our idea and who to contact in the States to help us out. He even put us in contact with his wife, a patent lawyer in Israel who helped us figure out what it would take for a patent, and where to find assistance with all the work surrounding getting one.
ACWIS: What led you to spend the year in Israel?
Rebecca Perl
RP: In 6th grade, I was at a convention for my youth group (USY) and I accidentally wandered into a program for the older kids, where they were showing a promotional video for Nativ (a college leadership gap-year program in Israel). I knew then that Nativ was going to be what I did the year after I graduated high school, before heading off to college. I've always loved Israel and I knew that spending two weeks there every few years would not be enough. This year has been absolutely incredible so far with lots of learning experiences, adventures, and growth.
ACWIS: What was it like to finally meet Prof. Walker and spend a day at the Weizmann Institute after you moved to Israel?
RP: Prof. Walker was so nice and knowledgeable. My day was amazing and I learned so much. I got a private tour of the visitors' center, which was very interactive and gave a history of the Weizmann Institute and the innovative research that has taken place there since the beginning. I learned that scientific research is an incredibly long process, taking many, many years and usually starting with the most basic element and going further in depth with that basic element until you find something from it. I was surprised that it was such a large campus, and also by how beautiful it was. I was also surprised that it takes so long to make something out of a basic element.
ACWIS: How has living in the "start-up nation" and learning about Israel's science and technology sector influenced you as a young entrepreneur?
RP: There's this "go for it all and don't give up or look back" spirit that each Israeli entrepreneur has – and being around that constantly has rubbed off on me, inspiring me to go for it, whatever "it" may be.
ACWIS: What's next for you and for DiabeTECH?
RP: After this year, I'm going to be attending Drake University to study business and science and pursue my entrepreneurial dreams. Hopefully, somewhere in there, DiabeTECH will have a prototype and from there, an actual product. I have high hopes for DiabeTECH and the future of diabetic research.
ACWIS: Why do you think it's important for people to support scientific research, such as the work Prof. Walker has been pursuing at the Weizmann Institute for almost three decades?
RP: I think supporting scientific research is so important because one day, this research could lead to life-changing conclusions. The only way we can move forward is by doing research, and the resulting advancements change the world.