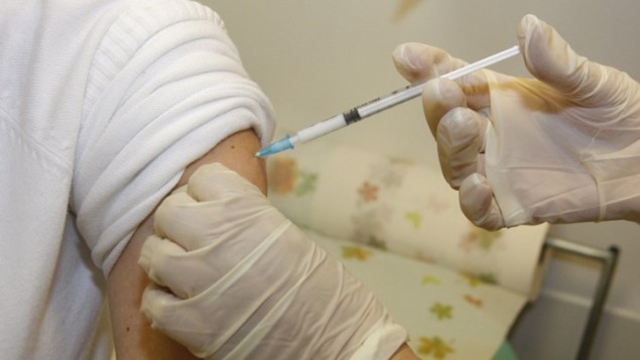 Receiving a vaccine (illustrative photo: Miriam Alster/Flash90)
With new patent approvals, BiondVax is ready to license its unique influenza treatment to pharma firms and governments
A universal flu vaccine developed by Israel's BiondVax has been granted patents by both the European Union and Japan, the company announced Wednesday. BiondVax's technology had previously received patents in the United States, Hong Kong, Australia, China, Russia and Mexico, and the two new approvals extend its reach dramatically.
With the newest patent approvals, the company said that it can now enter into wide-scale development programs with pharmaceutical companies and governments that will license its technology to develop a one-stop-shop vaccine for influenza.
Ironically, one of the few countries where it has not received a patent is Israel, where the company's vaccine against all forms of flu – bird, swine, Spanish, Hong Kong, Wisconsin, Brisbane, California, and other well-traveled forms of influenza – was developed. Company officials said that Israeli approval would be forthcoming in the near future.
Studies and clinical trials conducted by the company, hospitals, and universities around the world show that the BiondVax product, Multimeric-001 (M-001), works. BiondVax, established in 2005, licensed the technology from the Weizmann Institute, where it was developed in the mid-90s.
Before BiondVax, researchers developed vaccines for each flu as it popped up. Though it was long known that there were commonalities between strains, mutations made adapting existing vaccines to new strains impractical. As a result, health authorities were not able to properly prepare for flu outbreaks, because it was impossible to know which strain would be "in fashion" in any particular season.
Based on the Weizmann research, BiondVax was able to isolate nine linked sections from three proteins found in nearly all strains of flu discovered over the past 75 years. M-001, according to BiondVax, could be administered as a vaccine "primer" at any time of the year, helping to build basic resistance to the flu. And if an epidemic does appear imminent, the basic formula could be quickly adjusted to deal with the particular strain involved, with vaccinations to battle the season's trending flu prepared and distributed to doctors, hospitals, and clinics long before the disease starts to spread.
BiondVax went public in 2007 and recently completed advanced Phase 2 studies, having tested M-001 on 440 people with excellent results, the company said. It is therefore far ahead of other companies in research and development of a T-cell peptide flu vaccine, and hopes to be the first to obtain FDA approval for its vaccine. The company has already consulted with the FDA on Phase 3 studies.
In its latest research, said BiondVax's Chief Scientist Tamar Ben-Yedidia, researchers have discovered that M-001 can beat all the new "killer" strains of avian and swine flu.
"BiondVax's vaccine was designed to contain small pieces of the flu virus that do not change as they are required for the virus's life cycle," she said. "These small pieces are enough to teach the human immune system to recognize all flu strains, so that the body quickly stops the virus from causing illness. Based on these findings, BiondVax anticipates that the universal vaccine, when the development stage is completed, will be broadly effective against present and future strains in contrast to current vaccines that are strain specific."
Ron Babecoff, CEO of BiondVax, said that the firm was "excited over the dual patent approvals, both in the EU and in Japan, which strengthen the acknowledgement for BiondVax around the world. The patent approval in Europe and Japan can set the ground and support the company, as we work towards signing agreements with governments to use our unique technology."