Structural biologist Ron Diskin was part of a groundbreaking HIV research team at Caltech. Now he's back home, building a new lab at the Weizmann Institute.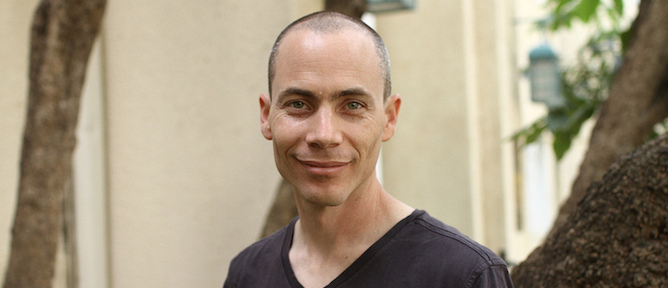 Diskin's specialty is using X-ray crystallography to image the proteins in viruses.
Ron Diskin, 37, is a world expert on the structural biology of deadly viruses. His critical contribution to the field points the way to unprecedented treatment approaches.
And he is living proof that the supposed "brain drain" from Israel is perhaps better described as a back-and-forth flow of the best and brightest minds.
Born, bred and educated in Jerusalem, Diskin spent 2008 to 2012 as a postdoctoral fellow at the California Institute of Technology (Caltech). His Hebrew University training in X-ray crystallography — a 3D imaging method to see the structure of proteins — dramatically enhanced the joint Caltech-Rockefeller University team's understanding of human immunodeficiency virus (HIV) and its natural antibodies.
In 2010, Diskin was singled out as a promising young investigator by the Collaboration for AIDS Vaccine Discovery.
But even before the team's newest paper on the topic was published last December, Diskin had moved back to Israel — specifically to Rehovot, home of the world-renowned Weizmann Institute of Science.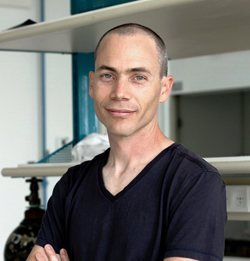 Diskin in his new lab at the Weizmann Institute of Science in Rehovot.
He occupies the post-grad institute's Tauro Career Development Chair in Biomedical Research and is building a lab to advance his structural research on microbes including HIV and the tropical Arena viruses that cause fatal diseases, such as Lassa fever, in Africa and South America.
Accepting a position as senior scientist at Weizmann brought to an end his stint at Caltech, often cited as the No. 1 place for research on the planet.
"In science, you can't keep doing the same thing forever, especially as a postdoc," Diskin tells ISRAEL21c. "I was working with top scientists in top institutes, pursuing wonderful things. But I had to move on in my career, and Weizmann is one of the better places for me in Israel. In structural biology research, it has by far the best infrastructure and people involved in it."
Showing how viruses infect host cells
Growing up in northern Jerusalem, Diskin was constantly exploring the outdoors, satisfying his innate sense of curiosity. His biology teacher at ORT Ramot high school, Yehudit Shilo, encouraged and inspired him further.
"Today I do curiosity-driven research, looking into things I find to be interesting," he says. "I try to build models to describe protein structures because I want to see them."
Following military service in the combat engineering corps, Diskin went on to earn bachelor's, master's and doctoral degrees at the Hebrew University of Jerusalem, where he won several scholarships and awards for excellence.
"After my first year, I joined the lab of Oded Livneh, a crystallographer, and so I was exposed to the field of structural biology. I stayed in his lab to do my master's and PhD."
At the Caltech lab of Pamela Bjorkman, Diskin began by using X-ray crystallography to look at the structure of the binding protein on the surface of the HIV virus that enables it to infect host cells. Then, he was asked to join a bicoastal collaborative research team led by Bjorkman at Caltech and Dr. Michel Nussenzweig at New York's Rockefeller University.
This team not only identified the antibodies some HIV patients develop after a few years of infection, but also succeeded in synthesizing these unusually strong antibodies in an even more potent formulation. In lab mice, these synthesized substances proved effective against the more virulent strains of HIV that often strike victims in Africa and Asia.
Diskin's new lab at Weizmann allows him to pursue several related projects. At the core level, all his work focuses on showing exactly how proteins interact and form complexes.
"There are other viruses that cause illness, not as well-known as HIV, and not much is known about them structurally. I am trying to fill that gap, asking basic questions about how those viruses recognize host cells and infect them," he explains. Few other researchers in the world are involved in this area of study.
However, Diskin is hesitant to make a direct connection between his research and future forms of therapy.
"Once you have that structural information, it gives you a big advantage over shooting in the dark," he acknowledges. "It could facilitate novel therapeutics. But we do not define our goals as applicative."
Diskin and his wife, Adi, who is studying toward her teaching certification, have two children: a four-year-old daughter, Abigail, and an 18-month-old son, Itamar.
He jokes that he "used to have hobbies" before fatherhood — one of these pastimes was building wood furniture — but he still indulges his affinities for cooking, photography, nature and physics whenever he can.