Jacob Hanna, 30
Whitehead Institute
Reprogramming cells to cure diseases
Mere months after Kyoto University researchers announced in 2007 that they had discovered how to turn skin cells into induced pluripotent stem cells (iPS cells), Jacob Hanna used these new types of cells to cure mice of sickle-cell anemia, in which a genetic defect causes bone marrow to make defective red blood cells. Hanna, a fellow at the Whitehead Institute, took skin cells from a diseased mouse and reprogrammed them create iPS cells, which behave like embryonic stem cells, readily turning into any cell type in the body. He then corrected the sickle-cell genetic defect and prodded the iPS cells to develop into the type of marrow stem cell that manufactures a mouse's blood cells. These healthy cells were transplanted back into the mouse, whose immune system accepted them as the animal's own tissue. The treated mouse began producing healthy red blood cells on its own.
Hanna's work was a turning point for iPS research, says George Daley, director of the Stem Cell Transplantation Program at Boston's Children's Hospital and a professor at Harvard Medical School: "It was a beautiful demonstration of a mouse model of a human disease, and really demonstrated the potential of iPS cells."
Before iPS cells can be used to treat diseases such as sickle-cell anemia in humans, a lot of work has to be done to make sure they won't cause adverse side effects and to improve the efficiency of deriving them from skin cells. Hanna is now developing simulations to understand what happens when cells are reprogrammed, and he's searching for new types of human stem cells that could be easier to turn into adult cells.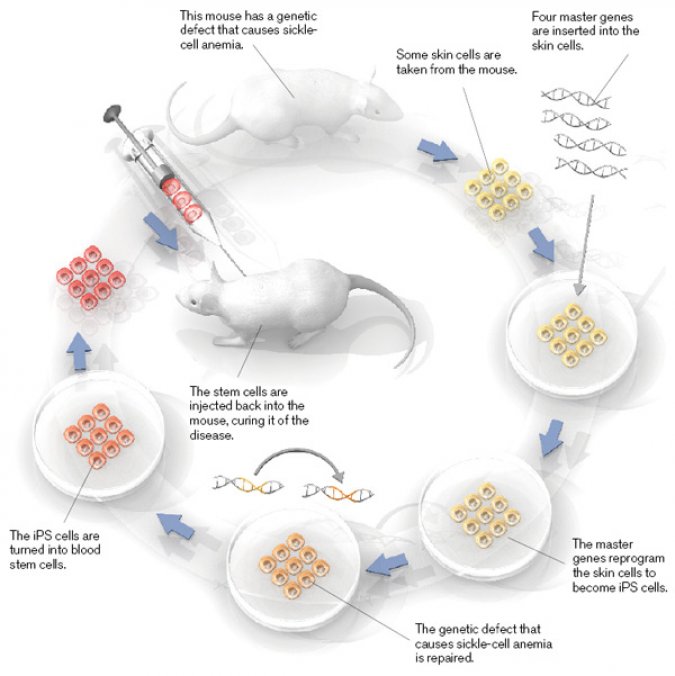 Dr. Jacob Hanna will be joining the Weizmann Institute of Science's Department of Immunology in 2011.