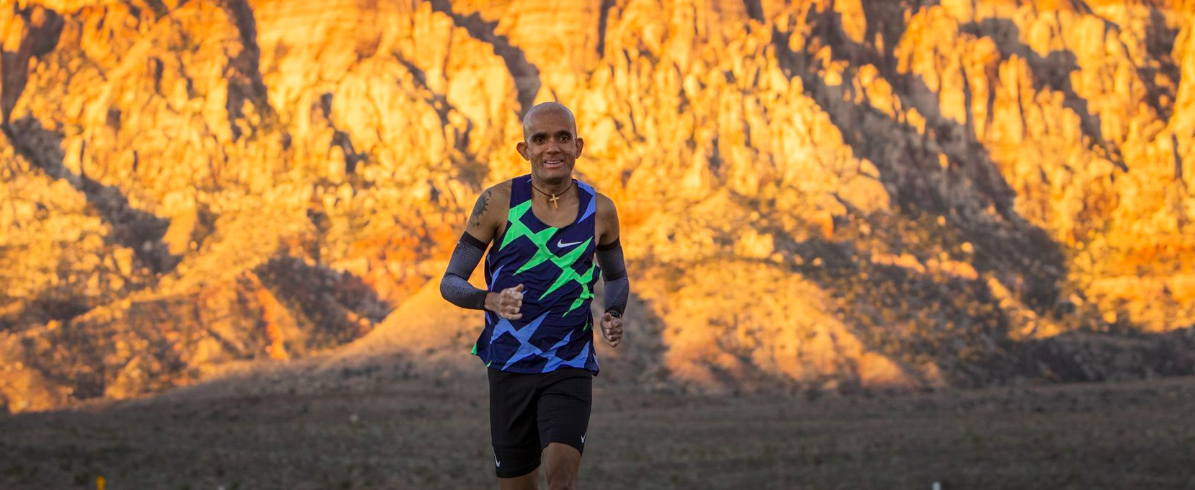 Gamini Sugathadasa, a bellman at the Four Seasons Hotel Las Vegas, runs near Red Rock Canyon in Las Vegas. Having completed the Abbott World Marathon Majors, he's found a new challenge: ultramarathons.
JOE BUGLEWICZ FOR THE WALL STREET JOURNAL
Most marathoners follow up long training runs with an ice bath and a nap. Gamini Sugathadasa, a bellman at the Four Seasons Hotel Las Vegas, runs 20 miles and then spends eight more hours on his feet. According to his fitness tracker, he averages 14,000 steps during a typical shift.
When the hotel closed in mid-March due to the coronavirus, he made up for the steps by pounding out more miles on his treadmill. The concept of a marathon was foreign to Mr. Sugathadasa until 2009, when he was greeting guests who had finished the Rock 'n' Roll Las Vegas Marathon. "I just remember everyone looked so happy," he says. Intrigued, he left work that day and ran 11 miles. Despite some stiffness, he went out and ran the same distance the following three days. He was a natural.
Mr. Sugathadasa ran his first marathon in 2010, the year he became a U.S. citizen. By 2018 he'd completed the World Marathon Majors, a series of six of the largest and most acclaimed marathons in the world: Chicago, Boston, London, Tokyo, Berlin and New York City. His finish times ranged between 2:42:50 and 3:04:14 and he averages a sub-6:30 mile—a highly competitive pace for his age. He hasn't earned prize money and doesn't have sponsors, but the Four Seasons hosts him in race destinations to help offset his expenses.
A gifted runner born in Sri Lanka, Mr. Sugathadasa volunteers as a race pacer, helping marathoners who hope to clock times under three hours. "I love motivating people through their wall and urging them not to give up," he says. "Sometimes it's easier to accomplish a goal together rather than alone."
Mr. Sugathadasa clocked a 2:46:07 during the 2016 Boston Marathon. 
PHOTO:

 

GAMINI SUGATHADASA
Mr. Sugathadasa struggled with injuries in his 40s. "Work didn't give me a lot of time to recover," he says. He planned to retire from racing when he turned 50 this year, but during the pandemic he started running more than ever. "I had a lot of worries about work and the world, and when I started running I could escape," he says.
The time off allowed him to embrace strength training, naps and post-run recovery rituals like foam rolling. As part of a joint-custody arrangement, he cares Monday through Thursday for his 12-year-old daughter, who is distance learning. She doesn't enjoy running, so they bought bikes this summer and he cycles to cross train. He believes the new habits have helped him stay injury-free and running stronger than ever, even at age 50.
During lockdown he'd run up to 16 miles on his treadmill, and when shelter-in-place orders lifted, he'd don a mask for long runs. "It's hard to breathe, but I saw it as an extra challenge for my lungs," he says. He ran five unofficial marathons five Sundays in a row during the six months the hotel was shut, as well as a 50K. And he celebrated his 50th birthday recently by running his first 50-miler in 7:13:50.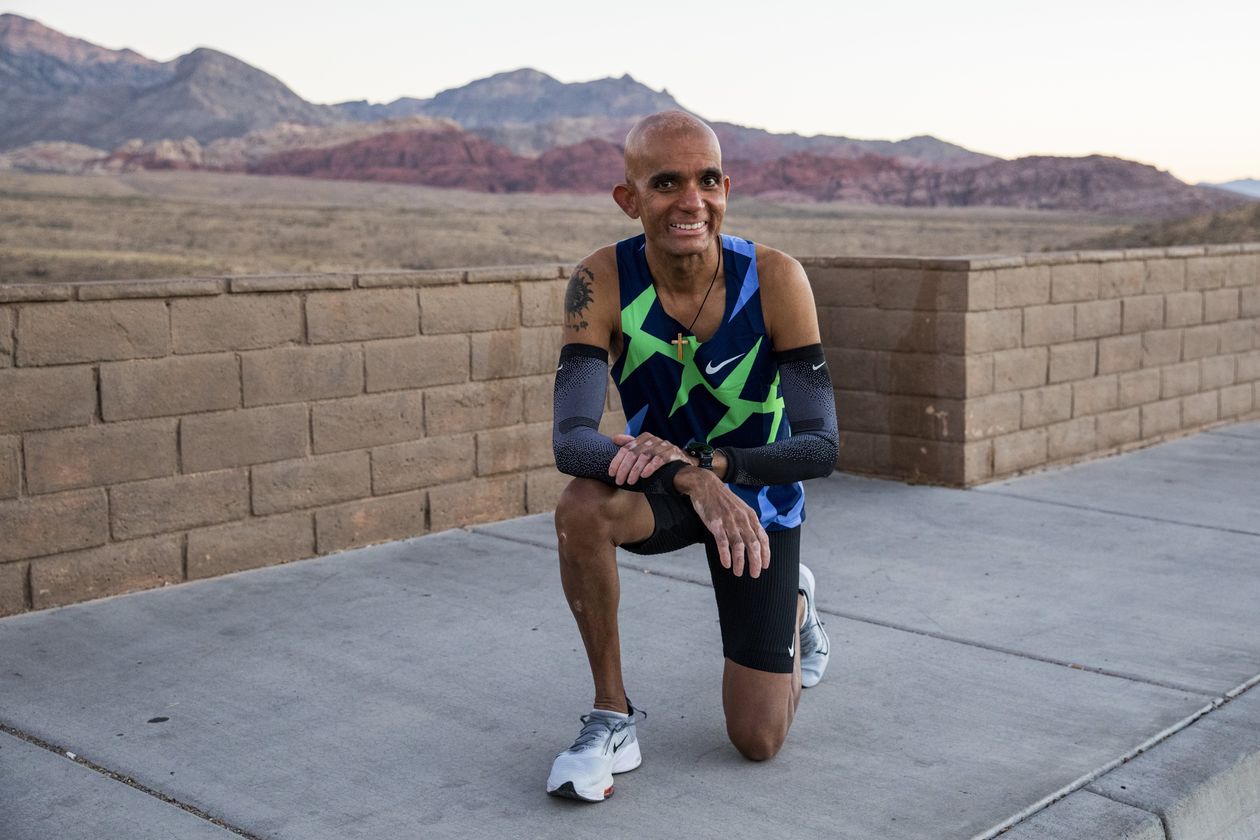 Mr. Sugathadasa runs between 75 to 100 miles a week. At 50, he's running stronger than ever after embracing cross training during Covid. 
PHOTO:

 

JOE BUGLEWICZ FOR THE WALL STREET JOURNAL
"It's hard running without the support of a cheering crowd," he says. "They give you a lot of energy. Out here in the desert I only see coyotes and rattlesnakes."
The Fours Seasons reopened on Sept. 25, Mr. Sugathadasa's birthday, and he returned to working eight-hour shifts that week. He's training for the Mt. Charleston Limited Edition Marathon in Nevada in mid-November. The in-person event is a Boston qualifying race and is limited to under 600 runners as a Covid-19 precaution. His goal is to finish in the top 10.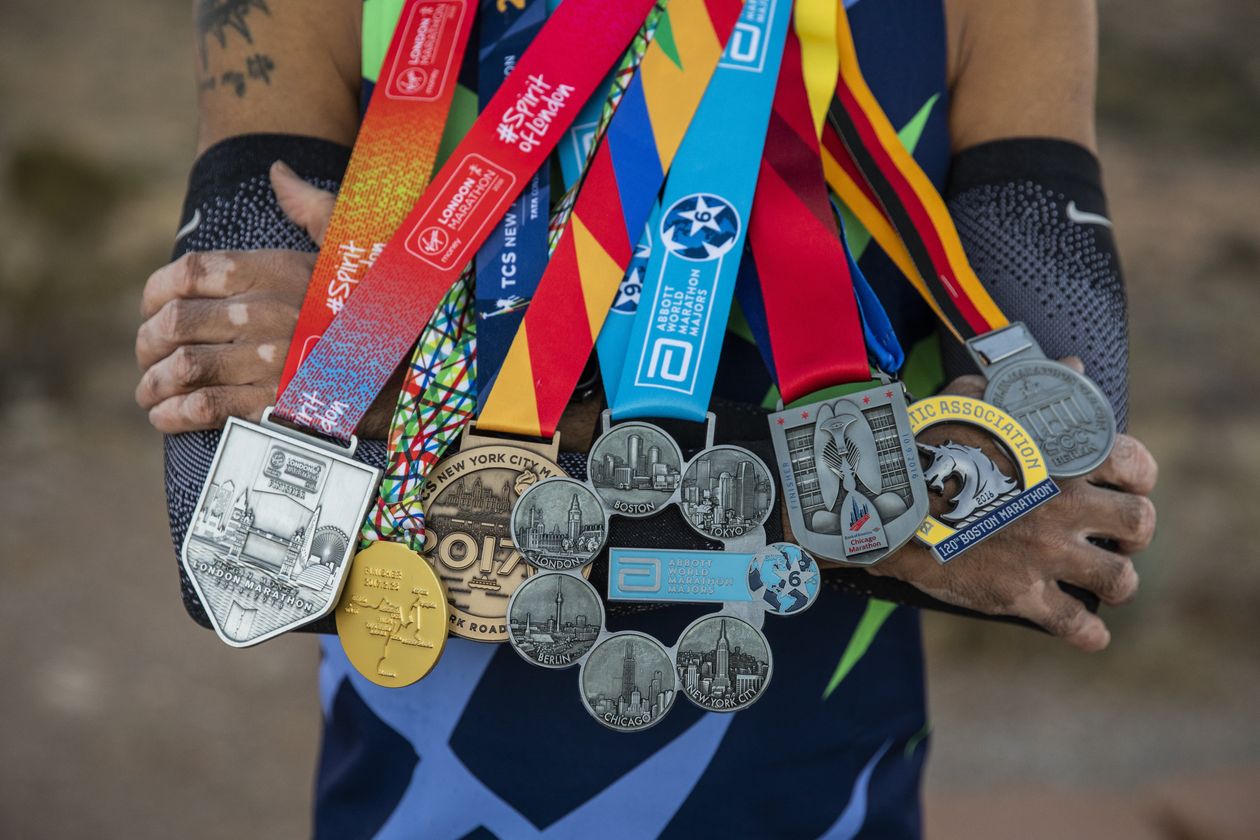 Mr. Sugathadasa shows off his marathon medals. 
PHOTO:

 

JOE BUGLEWICZ FOR THE WALL STREET JOURNAL
The Workout
Mr. Sugathadasa runs 75 to 100 miles a week. On days he's with his daughter, he runs 10 miles on his treadmill before his 8 a.m. work shift. The rest of the week he runs outside. At least once a week he leaves between midnight and 2 a.m. to fit in his long runs of up to 22 miles. He always wears a reflective jacket and headlamp and typically runs from his home in Las Vegas to Red Rock Canyon.
Twice a week he does speedwork. A workout might include 3 miles at his goal marathon pace of 6:09 a mile, then 2 miles at a 6:03 pace, 1 mile at a 5:53 pace and 800 meters at a 5:41 pace.
Mr. Sugathadasa used to run seven days a week. Now he uses cycling as a rest day, riding 60 miles with 3,000 feet of elevation gain. He often rides 10 miles after shorter, tempo runs to loosen his legs.
Now that he's back at work, Mr. Sugathadasa has made a point to make time for newer training habits, even if it means skimping on miles. He stretches and foam-rolls 15 to 20 minutes before running. After a run he might take an Epsom salt bath or a 60-minute nap while wearing leg recovery sleeves. The nights of his long runs he's in bed by 7 p.m.
In April he started strength training for the first time. He has a set of resistance bands and 30-pound dumbbells and will do dead lifts, squats and bridges.
The Diet
Philosophy: No red meat, tuna every other day and lots of pasta and water.
Meal Prep: Mr. Sugathadasa uses his days off to cook. "I make a lot of curry with pumpkin and mushroom," he says.
Post-Run Recovery: A smoothie made from avocado, spinach, berries, banana, kiwi, walnuts, almonds, hazelnuts and protein powder.
Race Fuel: Organic coconut water, Coca-Cola and energy gels.
Performance Secret: No alcohol and no restaurant meals.
Postrace Splurge: "I'll eat an entire veggie pizza," he says.
Essential Gear
Asics Novablast shoes for training. ($130)
Nike ZoomX Vaporfly Next% shoes for racing. "I really like the carbon fiber plates in between the midsoles," he says. ($250)
Garmin Forerunner 630 watch. ($400)
Nighttime Could Be the Right Time to Exercise
Don't be hard on yourself if you aren't an early-morning exerciser. Two 2019 studies looking into body clocks and physical activity concluded that exercising in the evening may be more effective.
"Every aspect of our physiology and metabolism is dictated by the circadian clock," says Gad Asher, a professor in the department of biomolecular sciences at the Weizmann Institute of Science in Israel and a senior author of one of the studies. His team found heightened exercise performance at night in both mice (which are nocturnal) and a group of 12 people. Those who exercised in the evening had lower oxygen consumption, which translates to better exercise efficiency, he says.
Harvey Brockman, a physical therapist with the University of California San Francisco RunSafe Clinic, says when you run should be dictated by how your body feels and whether you can still get enough sleep and recovery time. "Sleep is a big part of the performance puzzle," he says. "It's what sets apart elite versus amateur runners."
If exercising at night prevents you from falling asleep, you should rethink your routine, he says. Whether you're running at night or early in the morning, he says keeping visible on the road with reflective gear and a headlamp is important for safety. He also suggests sticking to routes you're familiar with.