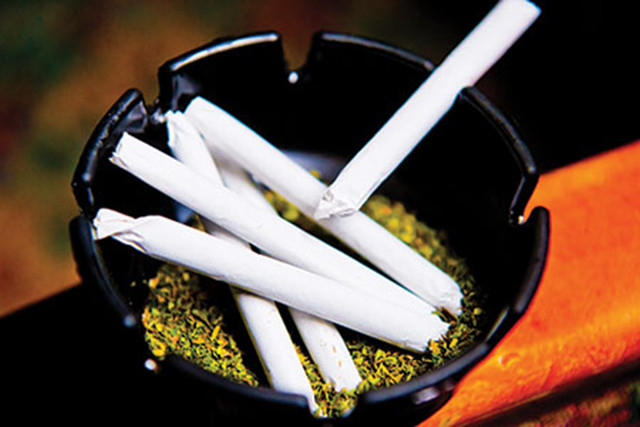 Photo by David Stuck
Israel is widely known as the "startup nation" for the plethora of innovation coming out of its tech-savvy entrepreneurs and researchers. And when it comes to medicinal cannabis, Israel does not disappoint.
From state-of-the-art vaporizers to groundbreaking research, Israel continues to advance the idea that marijuana can be used to treat a host of diseases, according to Lex Pelger. The Jewish state has even emerged as something of a leader in the industry.
"There are a couple of powerhouses around the globe for endocannabinoid research, and Israel is one of the most predominant groups," said Pelger, a Brooklyn-based writer who recently traveled to Israel for a graphic novel he's writing about the human body's endocannabinoid system, which mediates the psychoactive effects of cannabis.
Several companies in Israel, which has been issuing medical cannabis licenses since 2004, are working on new ways to administer the medicine to patients.
In January, Yissum Research Development Company Ltd., the technology transfer arm of Hebrew University of Jerusalem, announced a collaboration with Phytotech Medical Ltd. to develop new delivery methods to enhance the absorption of cannabidiol (CBD), a non-psychoactive compound found in cannabis shown to have therapeutic uses, and/or tetrahydrocannabinol (THC), the psychoactive compound in cannabis.
"[There are] two products that we're working on. One is a pill with very advanced bio-availability," said Boaz Wachtel, an Israeli cannabis activist and managing director of Phytotech. "The second product is a patch inside the cheek that will have a slow release of cannabinoids. Event-ually it will dissolve and you can swallow it with no problem."
In January, Phytotech became the first medical marijuana company on the Australian Securities Exchange and raised the equivalent of $4.7 million for its work. Wachtel said the company is also developing a high- efficiency vaporizer that would improve cannabinoid absorption.
Another Israeli company, Syqe Medical, developed a metered-dose inhaler through research supported by $1 million in state grant funds.
According to reports, a Canadian company, MedReleaf, working in conjunction with Israeli company Tikkun Olam, now produces cannabis that is not intoxicating but high in CBD, which research has shown to have anti-inflammatory effects.
While the expertise from Israel is being exported around the globe, actual marijuana plants are not, although some officials have pushed for a change in regulations.
Michael Dor, a physician and senior medical adviser to the Israeli Ministry of Health's cannabis unit, said export of the plant was debated in the government with no final decision on the issue. He said the issue may come up again once a new government is established following the recent Israeli elections.
"We know some people would like very much to export," Dor said. "On the other hand, there are some people who a very, very afraid of how Israel would be perceived."
Israel's foray into cannabis research began more than 50 years ago when a curious scientist wanted to know what cannabis' chemistry looked like.
"I was at the Weizmann Institute at that time; I was and still am a natural products chemist," Raphael Mechoulam, 85, recalled. "I was kind of surprised to find out that while morphine had been isolated from opium 100 years, 150 years previously and cocaine had been isolated from the cocoa plant almost a century previously, cannabis chemistry was not known, so I started working on it. I got material from the police."
Through a police connection, Mechoulam got a sizable amount of Lebanese hash, which he transported himself back to his lab. In 1963, he discovered CBD. A year later, he discovered THC.
"He started the great wave of cannabis research," Wachtel said.
About 20 years after those discoveries, Mechoulam mapped out the endocannabinoid system, which is involved in appetite, pain-sensation, mood and memory.
Mechoulam even did some early work on CBD extracts, which research in Israel and the United States is finding to be helpful in alleviating seizures in pediatric epilepsy and other disorders.
"We published a paper 35 years ago. Unfortunately nobody was very interested, and now people found out that, yes, things we published were correct," he said. He is a noted critic of how slow medical cannabis development can be and the lag in getting medicine in the hands of patients.
His research was supported by the National Institutes of Health for decades.
"Raph Mechoulam is one of the most respected and godfathery researchers of marijuana," said Ryan Vandrey, a cannabis researcher and associate professor in the department of psychiatry and behavioral sciences at Johns Hopkins University.
These days, about 13,000 patients hold medical cannabis licenses in Israel. Although licenses were first issued in 2004, it wasn't until two years ago that the country established a National MedicalCannabis Program with adherence to United Nations drug conventions, Wachtel said. It is the third country to do so, after Holland and Canada.
Patients can obtain licenses for chronic pain, orphan diseases (rare diseases that affect a small portion of the population), cancer, HIV with weight loss, inflammatory bowel disease, multiple sclerosis, Parkinson's disease, malignant tumors and post-traumatic stress disorder. Patients can smoke cannabis or use oil, laced brownies, ointments and pre-rolled joints. In oncology wards, patients can use vaporizers.
Tel Aviv resident Sylvia Sheinbaum can speak firsthand to how medical cannabis helps those suffering from PTSD and chronic pain, which for her dates back to a car accident more than a decade ago.
Sheinbaum said she was having recurring nightmares and night sweats and had trouble sleeping and getting out of bed in the morning.
"It brought me from a point where I slept every two hours and I slept for two hours [a night] for a year and couldn't get out of the house, couldn't get out of bed, couldn't do anything really, to something where I'm fully active as a cannabis advocate," she said. "I'm busy with that, so it changed my life a lot. I sleep through the night and I have a normal life."
Her organization, Pot for the Old Timers, advocates for people 50 and older to have access to cannabis to make the aging process more palatable and to fend off depression.
Mechoulam also sees a future in geriatric use of cannabis and its derivatives to raise the standard of living in the elderly. He sees endocannabinoid compounds becoming a part of medicine, as discoveries have shown promise in osteoporosis and certain types of brain injuries.
"I believe endocannabinoid compounds will become important drugs within the next decade and may be used in a lot of diseases for [which] we don't have usable drugs," he said. "But for them, it needs to be thoroughly investigated."
Dor is excited about new research in oncology, intestinal illnesses as well as CBD treatment of epilepsy.
Ruth Gallily, a retired professor of immunology at Hebrew University, said there are indications that cannabis and its compounds can help lower diabetes risk and improve liver function.
"It's very encouraging," she said.
Wachtel added that new research shows it may help reduce damage from heart attacks and help the body accept foreign organs.
He attributes the Israeli cannabis environment to a few things, one being the normalization of cannabis thanks to the Green Leaf Party, which he co-founded in 1999 and which helped make the issue a national conversation, as well the fact that the plant isn't stigmatized the way it is elsewhere, like the U.S.
"It's a small country and the benefits of medical cannabis vibrated the psyche much sooner than in other big countries," Wachtel said.